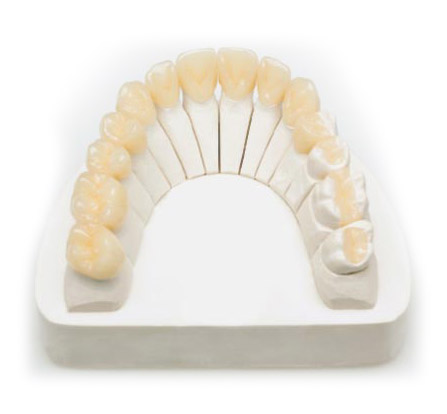 When to Use Porcelain Fused-to-Metal Crowns
Cases where metal occlusion or a metal lingual surface on anterior teeth is desirable; ideal for people with hard bites.
Metal rests and surfaces to accept cast metal removable partial dentures
Precision attachments
Material Properties
These crowns contain high noble or base metal alloys that allow porcelain to be layered on the surface and fired at high temperatures without distortion.
Special Features of Porcelain Fused-to-Metal Crowns
Porcelain fused to metal crowns offer a combination of strength and improved aesthetics that all-metal restorative alternatives don't have. These types of crowns have a long history of use in dentistry — they have been utilized to great effect for more than 60 years.
Tooth Preparation
Requires aggressive anatomical tooth reduction to avoid a bulky-looking appearance at delivery.
Reduction must allow for the thickness of both the metal substructure and the layers of porcelain stacked on top of it.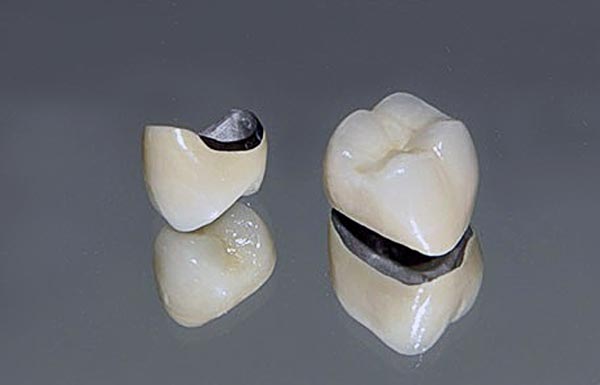 USES
Full-coverage crowns
Bridges
Long-span bridges
¾ crowns
Crowns and bridges with metal occlusal surfaces
Taking Impressions For Porcelain Fused to Metal Crowns
There are several ways to take impressions. These are the best ways to do so in order of preference for our dental lab:
Impression-free scans for digital workflow

The crown preparation, hard tissue, and the surrounding soft tissue are scanned at chairside and transferred to the dental lab digitally.

Hybrid technology

Done by utilizing scannable impression material and impression trays.
The impressions and bite are individually scanned into STL files.
Images are created and used to "print" 3D models in the dental lab.

Traditional polyvinyl siloxane impressions and bite registrations
Color Choices
Porcelain base colors correspond to the VITA Shade Guide.

Custom staining is available for an improved and more lifelike appearance.

Metal margins.
Delivery and Cementation
We recommend using mechanical retention and cementation with a resin-modified glass ionomer.
Adjustments
Few to none follow-up adjustments as compared with acrylic dentures.
Average Lifespan
10 to 15 years on average.
Porcelain is easily chipped or cracked.
Lasting repairs to fractured porcelain are not possible, which means that crowns have to be completely replaced in the event of substantial damage.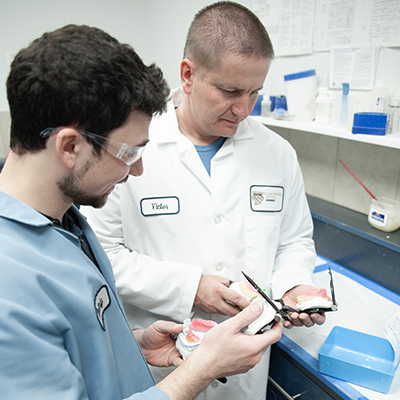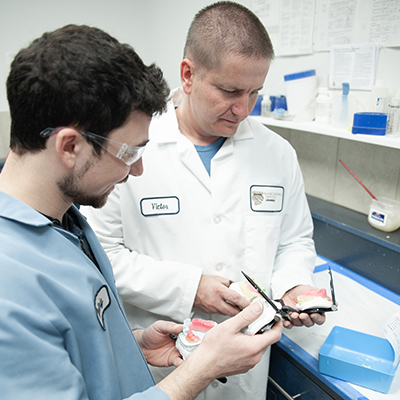 If you are in the Treasure Valley area, we offer free pickups. For orders outside of Treasure Valley, we utilize free, two-day shipping with FedEx in order to ensure that your dental appliances arrive to you quickly.
Contact us today with any questions or to receive your free starter kit.
Request a free kit
Receive our hassle-free dental lab kit to get started!
Don't miss a beat — when you need us, we'll be ready! Our dental starter kit includes everything you need to order dentures, dental crowns, dental bridges, and other dental prosthetics from our dental lab. See for yourself how we can help your dental practice succeed!
FedEx two-day return postage shipping labels

Laboratory prescription slips

Product and service inserts with price list