PFM Porcelain-Fused-to-Metal Crowns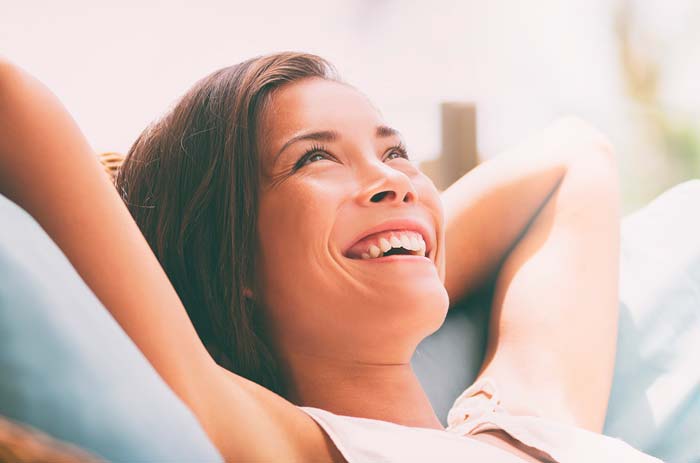 PFM Porcelain Fused to Metal Crowns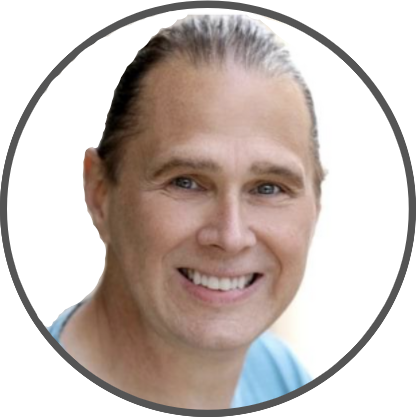 By David Hudnall, DMD
For many years, porcelain-fused-to-metal crowns have been a go-to solution for full-coverage restorations. Their reliability has been proven through extensive long-term clinical research that is well documented in the dental literature.
Millions of porcelain restorations have been placed worldwide. The real reason they became so popular has to do with their strength and their ability to offer an aesthetic solution for teeth in all areas of the mouth. Porcelain-fused-to-metal crowns often last 15 to 20 years before requiring replacement in patients with good oral hygiene.
Read on to learn about porcelain-fused-to-metal crowns and when it is a useful dental solution from the team at Stomadent Dental Laboratory.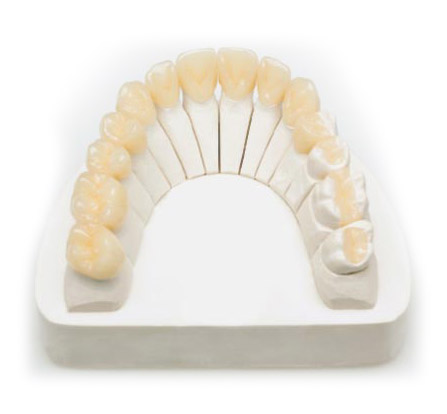 When To Use Porcelain-Fused-to-Metal Crowns
Although other crown materials, such as lithium disilicate (Emax) and zirconia, have made great strides in recent years, porcelain-fused-to-metal crowns continue to have value as a restorative solution in a number of specific situations:
Patients with hard bites or bruxism can benefit from an indestructible metal occlusal surface that doesn't wear the opposing dentition
Metal rests and lingual surfaces can be made to accept cast metal removable partial dentures
Precision attachments for clasp-free cast metal removable partials
Material Properties
Depending on the dentist's selection, porcelain is applied to a metal substructure made from high-noble, semi-precious metals, or base metal alloys. Substructures made from alloys that contain higher percentages of noble metals offer greater material strength and are known for being more biocompatible when it comes to metal allergies and reactions. Differences in alloy composition often determine the cost of the final restoration.
High-noble: 60% noble metals, including a combination of gold, platinum, or palladium with a minimum of 40% gold content.
Semi-precious or noble: 25% or more gold or other noble metals supplemented with other metal elements.
Non-precious or base metal: Less than 25% noble metal content combined with chromium beryllium, nickel, and cobalt. Additional elements may include tungsten, manganese, iron, silicon, carbon, and molybdenum.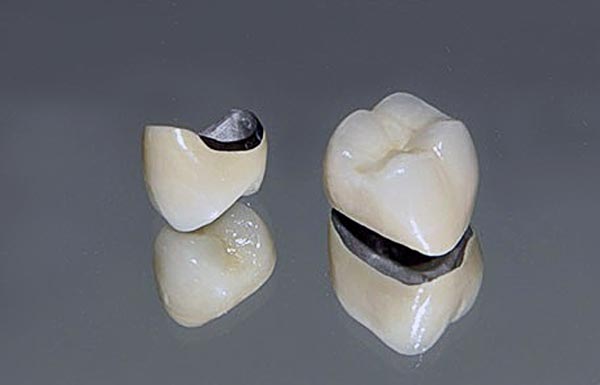 USES
Full-coverage crowns
Bridges
Long-span bridges
¾ crowns
Crowns and bridges with metal occlusal surfaces
Special Features of Porcelain-Fused-to-Metal Crowns
Porcelain-fused-to-metal crowns offer a combination of strength and improved aesthetics that all-metal restorative counterparts don't possess. PFM crowns have a long history of use in dentistry and have been the tried-and-true solution for dentists for more than 60 years.
More recently, all-ceramic crowns have emerged onto the scene. They have become more popular for patients and dentists alike. But they don't come with a built-in track record of research to support their long-term use and benefits.
One of the biggest benefits that all-ceramic crowns offer is they require less good tooth structure to be removed for an ideal crown preparation. Because they contain no metal substructure, they also provide improved aesthetics, yielding a more enamel-like appearance. Porcelain-fused- to-metal crowns can still be a great choice for certain patients and specific areas of the mouth.
Drawbacks of Porcelain-Fused-to-Metal Crowns
Despite their numerous documented advantages, creating a highly lifelike porcelain-fused-to-metal crown can prove to be difficult. In the absence of a metal substructure, porcelain is fragile and lacks the strength necessary to withstand occlusal and shearing forces. With a substructure, the metal color can show through. It must be masked with opaque porcelain to obscure the underlying color before layering with Feldspathic porcelain.
Both metal and opaque porcelain prevent light from passing through the restoration as it does with a natural tooth, making the restored teeth look less lustrous when compared to the surrounding natural teeth.
An enemy of porcelain-fused-to-metal crowns is the recession of gum tissue. Over time, metal contact with the tissue may cause gum sensitivity and irritation, especially when base metal alloys are used. With recession, the metal margin begins to show, creating an ugly gray ring that isn't aesthetically pleasing, particularly in the anterior area of the mouth. Dentists sometimes resort to using a porcelain margin during tooth preparation to overcome this drawback.
Tooth Preparation
A PFM crown prep requires rather aggressive anatomical tooth reduction to avoid a bulky-looking appearance at delivery. Teeth must be shaped to account for the thickness of both the metal substructure and the layers of porcelain stacked on top of it in order for the ceramist to create a crown with good translucency and refractive properties.
PFM crown prep is of paramount importance from a clinical perspective. To achieve excellent aesthetics, follow general tooth preparation guidelines.
Facial reduction for anterior teeth: 1.5 mm minimum
Lingual reduction for anterior teeth: 1.0 mm minimum
Buccal and lingual surfaces of posterior teeth: 1.5 mm minimum
Incisal or occlusal reduction: 2.0 mm
Interproximal reduction: 1.5 to 2.0 mm
Smooth shoulder margins: Especially necessary for porcelain margins
Taking Impressions for Porcelain-Fused-to-Metal Crowns
Although polyvinyl siloxane impressions have been successfully used for many years, there are now more accurate methods to capture an exact representation of a PFM crown prep.
Impressions for porcelain-fused-to-metal crowns taken via chairside 3D scanning technology offer many distinct benefits and advantages over physical impressions.
Allows the dental laboratory to incorporate crown fabrication into a digital workflow
Patient acceptance and comfort are improved; no messy impressions to cause gagging
Models may be printed to exact specifications resulting in improved fit
Crown margins are well delineated, leaving less to interpretation and human error
3D-designed restorations require fewer adjustments at delivery, saving chair time
Color Choices
While porcelain colors correspond to the VITA Shade Guide, a skilled ceramist has the ability to combine more than one color on the same restoration, if necessary, to give the crown a true blended appearance with the neighboring teeth. In addition, custom staining is also possible for an enhanced, more lifelike appearance even after final crown fabrication.
Delivery and Cementation
Properly reduced PFM crown preps allow for partial mechanical retention. This lets the cement, the weakest link, be applied in a thin layer for security rather than relying upon a bulk amount of cement material to take up excess space inside of the crown. Most dentists find resin-modified glass ionomer works well for PFM crown cementation.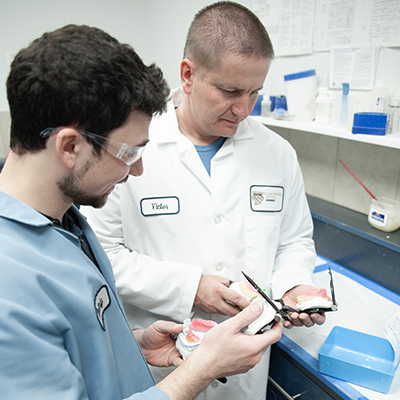 Adjustments
If digital impressions were used to capture the PFM crown prep, few to no adjustments are necessary upon delivery. This saves a tremendous amount of time and reduces overall costs to the dental practice.
Porcelain-Fused-to-Metal Crowns: A Sound Choice
Not sure that porcelain fused to metal will give your patient the result they are looking for? Stomadent Dental Laboratory offers fixed restorative solutions to address every need and every aesthetic concern. No crown material fulfills every need.
Each type of restorative material has its own set of advantages and disadvantages. Our experienced and knowledgeable dental lab technicians can direct you to the most appropriate restoration for your specific clinical indication. For a complete discussion of all of Stomadent's laboratory services and our fee schedule, see Stomadentlab.com.
If you are in the Treasure Valley area, we offer free pickups. For orders outside of Treasure Valley, we utilize free, two-day shipping with FedEx in order to ensure that your dental appliances arrive to you quickly.
Contact Stodament Dental Laboratory today with any questions or to receive your free starter kit.