What is 3D Printing?
The process of 3D printing begins with a reservoir of raw material. 3D printing is an additive manufacturing process whereby raw material is added onto a stationary plate, little by little, to build the desired object dictated by computer-aided design (CAD) software. In dentistry, 3D printing is used to accurately manufacture precise-fitting restorations and restoration components from various types of resins. The printed components are then manually processed by the laboratory technician to form the final dental appliance suitable for long-term use in the oral environment.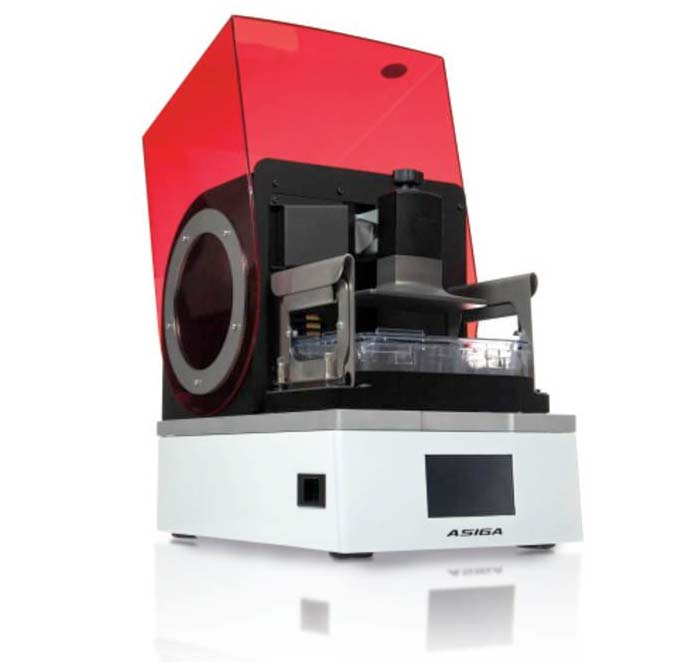 3D Printing Technology in Dentistry
Two different 3D printing technologies are currently commercially available to dental laboratories. Both work by selectively exposing the liquid resin to a curing light source to form very thin layers of solid material. The layers are stacked upon one another to create the final 3-dimensional object. The main difference between the two technologies comes down to the type of light source used to solidify the resin. Stereolithography (SLA) uses a UV laser as its light source to solidify the resin material. Digital Light Projector (DLP) technology employs a digital projector set up in a tight grid of square pixels to project emitted light thereby curing the resin material. Stomadent employs 3D printers utilizing stereolithography technology in its digital workflow.
What is the Quality of 3D Printed Restorations?
With either technology, the accuracy and precision of the final dental restoration depends on many different factors including the overall quality of the 3D printer itself, the properties of the raw material, the CAD software used to translate the design to the manufacturing process, how the restoration is handled and processed post-manufacturing, and how well calibrated and integrated all of these systems are. Over the past few years, both the quality and precision of finished restorations have increased exponentially allowing restorations to be printed with little to no chairside adjustments. Printed restorations have the advantage of having no polymerization shrinkage. This results in a denture with superior fit compared with acrylic monomer-based dentures.
Post-Manufacturing Processing
Like traditional methods, all 3D-produced restorations require further finishing by hand after processing in order to be used as a finished restoration. The printed parts are washed in solvents to remove excess resin. Most parts need to be cleared of manufacturing sprues. Depending on the application, some assembly of components printed with different resins may be necessary. Finally, finishing and progressive polishing are necessary to make the appliance suitable for delivery and use.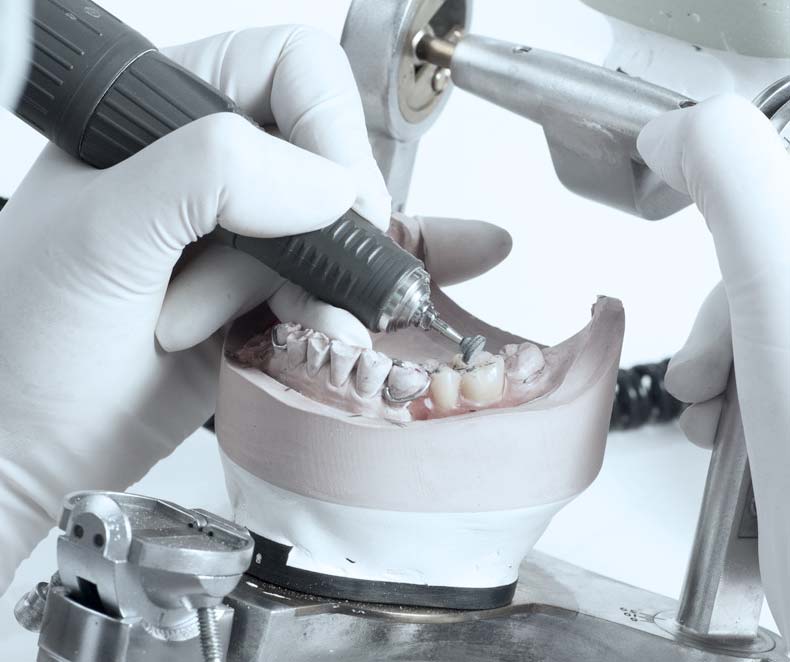 Dental Laboratory Applications for 3D Printing and Costs
Valplast Flexible Partial Dentures
Valplast uses their own exclusive proprietary r.POD system to create the Valplast flexible denture clasps and flexible framework via 3D printing. Custom-milled multilayered poly methyl methacrylate (PMMA) denture teeth are generated separately to precisely fit the flexible denture base within edentulous spaces, eliminating the need to manually trim stock denture teeth to fit between the patient's abutment teeth. Using custom-milled teeth allows for a uniform appearance while saving valuable handling time.
Metal-free flexible Valplast partial dentures are available from Stomadent for the low cost of $346 complete with teeth. For additional flexible partial denture options or alternatives, see our Removable Fee Schedule.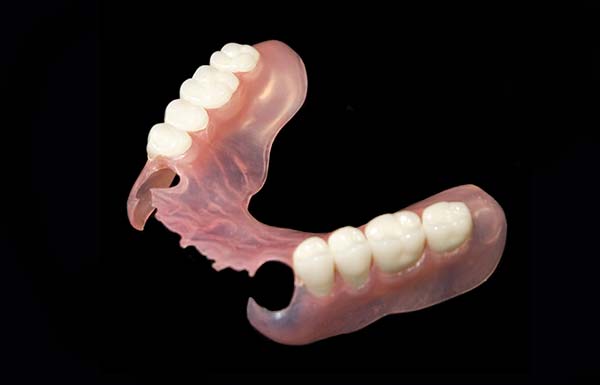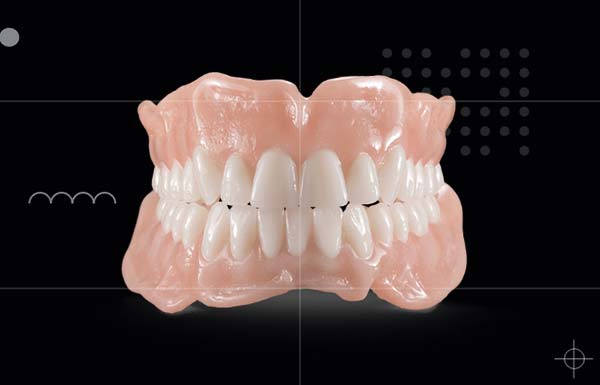 Complete Dentures
3D printed denture baseplates and 3D printed teeth are each custom printed individually, in their respective shades. Since the teeth are manufactured as one continuous unit, the teeth and baseplate components can be married with light cured resin. Printing or milling teeth allows denture teeth to be manufactured to exactly fit the curvature of the arch for ideal denture stability and occlusion without the need to manually modify stock denture teeth.
Stomadent offers a variety of denture styles with various price points beginning at $280 and up per denture. Not all of our dentures are manufactured via 3D printing or milling. Please see our Removable Denture Fee Schedule for additional information.
Printing Wax Try-Ins
Clinicians who prefer the added security of performing an in-office try-in before the denture is completed have the option of requesting a resin mock-up of the final appliance to try into the patient's mouth. This gives the opportunity for the dentist to check the bite and appearance before the final appliance is fabricated. If changes are desired, it is possible for the lab technician to modify the design within the software prior to fabrication of the final restoration. Click on the following link to see this process:
Printed try-ins are available at a nominal fee. Please see our Removable Fee Schedule for details.
3D Printing Lends Itself to the Production of Other Dental Appliances
Nightguards
Custom Nightguards for bruxism patients begin at $129.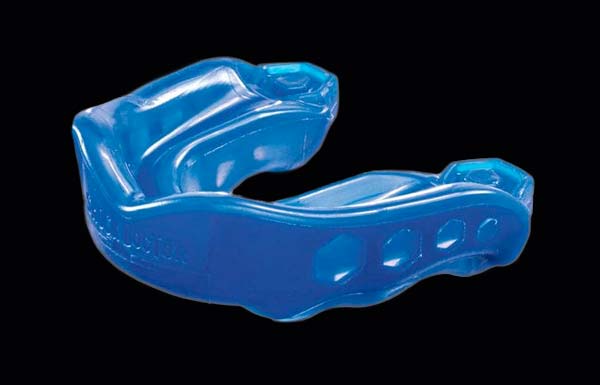 Custom Sports Mouthguards
We offer Sports Mouthguards to the dentist for the low price of $75.
Custom Bleaching Trays
Bleaching trays are available to the dentist at $46 per tray.
Stomadent Dental Laboratory
Stomadent Dental Laboratory has invested heavily in 3D printing technology to offer dentists the most precisely-fitting state-of-the-art removable restorative solutions available. Our dedicated team has made a commitment to ongoing training and the use of a fully-automated workflow to assure that your patient receives the highest quality restorative appliance possible at a price that won't bankrupt your budget.
Don't miss a beat — when you need us, we'll be ready! Our dental starter kit includes everything you need to order dentures, dental crowns, dental bridges, and other dental prosthetics from our dental lab. See for yourself how we can help your dental practice succeed!
FedEx two-day return postage shipping labels

Laboratory prescription slips

Product and service inserts with price list