When to Choose Metal Framework Over Other Types of Partial Dentures
Partial dentures with metal frameworks are often chosen over other types of partials when precise fit and stability are a concern. Metal frameworks are also suited for cases when retention by semi-precision- or precision-attachments is desired.
Qualities of Wironium
Wironium is a proprietary nickel- and beryllium-free cobalt chromium alloy developed by BEGO USA.
The material is biocompatible and corrosion-resistant.
Wironium is thin but incredibly strong and durable.
Special Features of Wironium
Wironium is highly resistant to deformation.
Wironium has similar properties to a Type IV gold and may be cast to be incredibly thin.
The alloy is semi-flexible and resists fracture of the metal clasps.
Vacuum casting ensures a precise fit while eliminating voids in the metal that can cause defects and weaknesses.
The material is lightweight, especially when compared to other cobalt-chrome formulations, which provides enhanced comfort for your patients.
The Best Way to Take Impressions for Wironium
A thin, stable bite registration is desirable for accurate articulation.
Distortion-free impressions should be taken using traditional alginate.
The Accudent impression system by Ivoclar is another excellent option for taking impressions.
Rubber base or polyvinyl siloxane impressions are generally not necessary.
Delivery and Seating
The precision of vacuum casting allows Wironium partials to seat right the first time.
Malleable clasps conform to the tooth contour and are designed to engage with the natural undercut.
Correct fit upon insertion reduces excessive adjustments, metal fatigue, and saves valuable chair time.
Adjustments
Generally, only minimal adjustments are required when using Wironium.
It is possible to tighten or loosen the clasps at chairside without worrying about breakage.
Repairs
Strong, durable repairs and additions to existing cast metal partials may be made via laser welding using proprietary Wiroweld welding wire and Wironium companion products.
Repairs to other cast metal frameworks, such as Vitallium, may also be made using the Wiroweld system.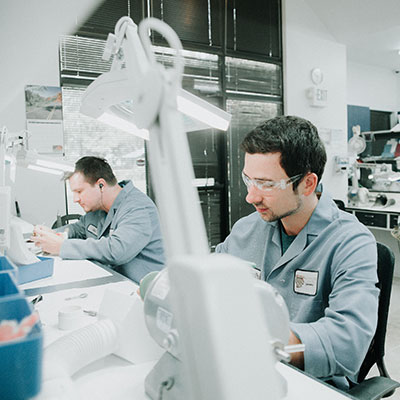 [iee_empty_space type="vertical" height="15″ width="10″ hide_on_mobile="small-visibility,medium-visibility,large-visibility" class="" id="" /]
Hybrid Partials using Wironium
It is possible to combine Wironium with Thermoflex or Valplast flexible partial denture materials to create a hybrid partial that possesses all of the benefits of the flexible material with the added strength and stability of Wironium.
This feature is particularly important in the case of free-end or long-span partials where partial dentures from flexible materials don't always function ideally.
Another benefit of hybrid partials allows for tooth-colored or tissue-colored clasps to be used in combination with a Wironium framework and bracing elements to improve the appearance of the partial denture.
Warranty
Wironium is virtually unbreakable. In the event of breakage under intended use, a two-year warranty is provided.
Stomadent Dental Laboratory is a certified provider of Wironium by BEGO USA and has also been certified to perform repairs using the exclusive Wiroweld system.
Training is periodically updated by the manufacturer to reflect improvements in technology.
Stomadent performs ongoing quality control, ensuring that its clients are provided with Wironium products that will withstand the test of time.
Contact us today to learn more about Wironium or any of the other dental lab services and products we provide. At Stomadent, we are always undergoing training in order to better utilize the newest materials and the tried-and-true methods that have worked for a long time.
Get a starter kit from us today. In it, you will find everything you need to send us test cases. Once you see the results that come from our dental lab, we know that you'll make the switch.
Request a free kit
Receive our hassle-free dental lab kit to get started!
Don't miss a beat — when you need us, we'll be ready! Our dental starter kit includes everything you need to order dentures, dental crowns, dental bridges, and other dental prosthetics from our dental lab. See for yourself how we can help your dental practice succeed!
FedEx two-day return postage shipping labels

Laboratory prescription slips

Product and service inserts with price list