When to choose Eclipse over traditional types of dentures
For patients with a history of allergic contact stomatitis to methyl methacrylate monomer.
Material Qualities
Eclipse is a proprietary denture fabrication system from Dentsply International that is composed of visible light-cured composite resin Urethane Dimethacrylate (UDMA).
Three forms of UDMA used to indirectly build the denture – base plate resin, set-up resin, contour resin.
Special Features of Eclipse
Dentures, partials, and night guards are fabricated from completely monomer-free material, eliminating allergic reactions.

Baseplate resin offers excellent tissue adaptation and is molded directly on the master cast.
The fit of the adapted baseplate at the try-in appointment is the fit of the finished denture.
Eclipse has much less shrinkage and distortion compared with monomer-based acrylics.
No flasking minimizes the chance of processing errors.
Processing is quick allowing for a more rapid turnaround time.
Uses
Complete Dentures
Partial Dentures
Flippers
Nightguards and Splints
Orthodontic Appliances
Taking Impressions
Accurate impressions using the method that works best for you.
Color Choices
Eclipse comes in four well-known Lucitone Shades: Original, Light Pink, Light Reddish Pink, and Clear.
Delivery and Seating
Fits comfortably when initially seated.
May be adjusted just like acrylic, if required.
Reduced sore spots compared with other dentures.
Almost no adjustments at delivery will save you costly chair time.
Adjustments
Few to none follow-up adjustments as compared with acrylic dentures.
Repairs
Stomadent has the materials and expertise to repair or rebase Eclipse appliances providing a seamless repair that remains monomer-free.
Be sure to disclose that your appliance is made from Eclipse material on the laboratory prescription.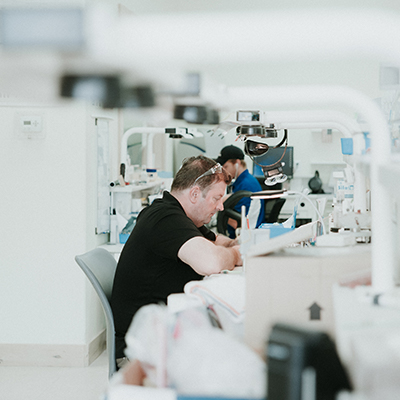 Certification
Stomadent is an Eclipse certified provider. Stomadent performs ongoing quality control, assuring that its clients are provided with Eclipse Dentures that will withstand use under normal circumstances.
Switching denture labs can be stressful
Receive our hassle-free dental lab kit to get started!
Don't miss a beat — when you need us, we'll be ready! Our dental starter kit includes everything you need to order dentures, dental crowns, dental bridges, and other dental prosthetics from our dental lab. See for yourself how we can help your dental practice succeed!
FedEx two-day return postage shipping labels

Laboratory prescription slips

Product and service inserts with price list