4 Veneer Preparation Methods for Satisfied Patients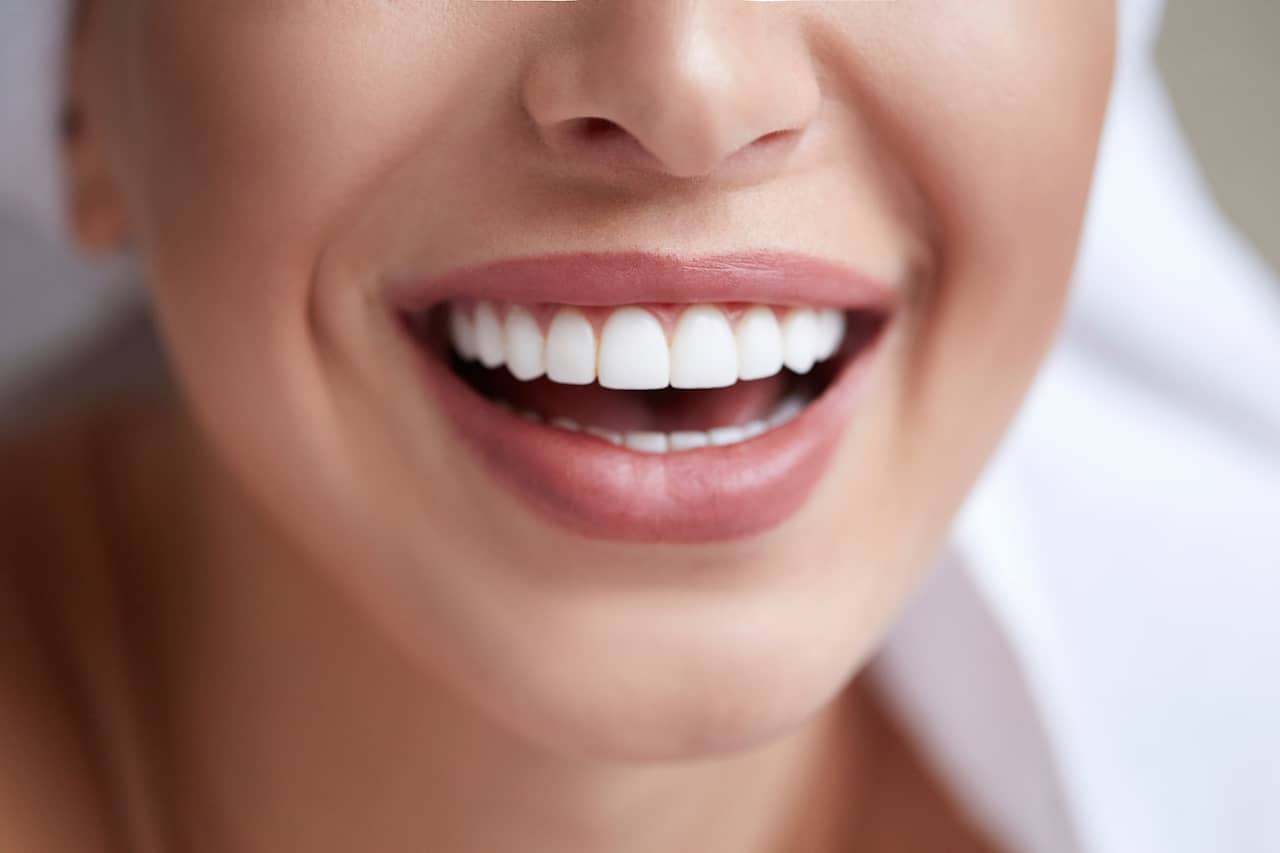 4 Veneer Preparation Methods for Satisfied Patients
By David Hudnall, DMD
With the advent of CAD/CAM technology, composite and porcelain veneers are no longer the only choices when it comes to laboratory-processed cosmetic veneers. Introduction of newer methodology and materials in dentistry has allowed dental practitioners to have more options to choose from to create the best smile possible for their patients.
State-of-the-art materials like IPS Empress, E.Max, and Zirconia have changed the way we think about improving the appearance of the smile and have opened possibilities that didn't exist 20 years ago. We are going to discuss tooth prep for veneers along with the different types of veneers available.
Types of Veneers
There are three basic groups of materials for teeth prepared for veneers in widespread use today:
Composite Resin: the least expensive and least invasive option for patients
Porcelain: has a long-standing history of use in dentistry dating to 1928
Ceramic: manufactured from various formulations of incredibly strong glass-like materials
What Are the Best Veneers Made Of?
By taking advantage of CAD/CAM technology, the best veneers today are milled from solid blocks of ceramic materials for an exact fit. 3D milling takes advantage of a totally automated workflow that produces veneers with a lifelike appearance completely free of voids and defects.
In addition, these ceramic materials possess greater flexural strength and chip resistance when compared to traditionally-fired porcelain and have a lifespan of 15 to 20 years or more. Let's delve into each offering in greater detail.
IPS Empress Esthetic
IPS Empress Esthetic is made from Leucite ceramic, a reinforced pressed glass. Empress has been available to the dental market for many years in a wide variety of shades that allow it to blend with the surrounding natural teeth. It has a track record of proven, lasting results. These veneers are much more durable than porcelain and are indicated for use with the most demanding aesthetic cases.
IPS E.Max
Composed of monolithic lithium disilicate, the translucent and reflective properties emulate and blend seamlessly with natural teeth. The material may be custom characterized using IPS stains and can be fused to a stronger material, such as Zirconia, for added strength or to mask dark or discolored areas. E.Max is especially suitable for veneer cases where aesthetics are highly valued.
Zirconia
Zirconia dioxide is the newest entrant to the veneers market. What's special about it? It is extremely fracture-resistant and nearly indestructible, hides underlying discolorations, withstands chipping, and offers the best level of translucency in the aesthetic zone for patients with a history of parafunctional habits like bruxism or clenching. Newer formulations of zirconia offer all of these benefits within a thinner restoration using a more conservative veneer prep that preserves additional tooth structure.
What Are the Different Costs of Veneer Types?
The cost of composite veneers ranges from $250 to $1500 per tooth, depending on the placement method employed (direct or indirect) and the complexity of the case. While they are offered at a lower price point to patients, they begin to stain and degrade with time, necessitating their replacement. The average life expectancy for composite veneers is 5 to 10 years.
Porcelain veneers cost the patient an average of $700 to $2,000 per unit and can last 10 to 15 years on average. The laboratory charge to the dentist ranges from $150 to $400 per unit, depending on case complexity and additional services such as custom staining. Most porcelain veneers will begin to show signs of wear, chipping or fracture after 10 to 15 years of use, necessitating their replacement.
Ceramic-based veneers, such as zirconia and monolithic lithium disilicate, range from $900 to $2500 per unit. Expect these veneers to last an average of 15 to 20 years before replacement is necessary. In the long-term, ceramic veneers are often the most durable and cost-effective option. Dentists can expect to spend $150 to $450 per unit in order to have these veneers fabricated by a high-quality CAD/CAM-equipped dental laboratory.
Veneer longevity also depends on what type of cement is used for veneers as well as many factors that are largely within the patient's control such as oral hygiene, excellent home care, habits (e.g., biting fingernails, chewing hard candy or ice), and bruxism. Patient selection has a lot to do with the long-term success of dental veneers.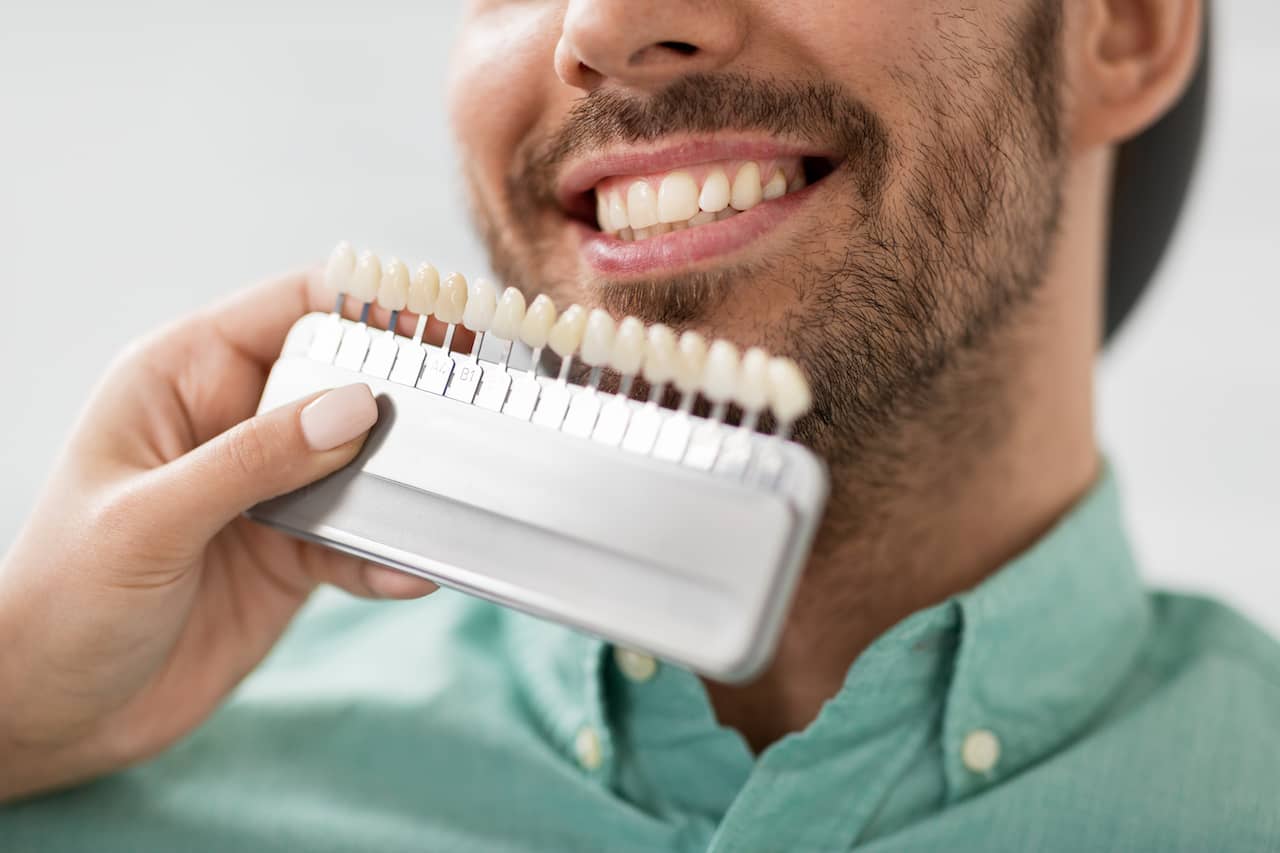 Why Veneer Preparation is Important
Veneers can't be made to look natural and blend seamlessly with adjacent teeth without adequate tooth reduction
Each type of dental veneer material requires a specific tooth prep for veneers and minimum uniform thickness for material strength and durability
Ceramic veneer restorations require a completely passive fit with no undercuts
Smooth veneer prep edges result in lower stresses being placed on the final restoration
Digital scanners record teeth prepared for veneers that have smooth preparations with increased accuracy, yielding a more precise fit
Veneer Preparation Steps and Veneer Preparation Guidelines
Now let's take a look at the veneer preparation guidelines for each type of veneer. Read on to learn more.
Composite
There are actually two methods for performing composite veneers: direct and indirect. With the direct placement method, composite material may be bonded onto the facial and incisal tooth surfaces after receiving selective, minimal tooth prep for veneers and contouring. With the indirect method, composite veneers are created in a laboratory and the completed restorations are bonded into place. This method requires a uniform thickness of material for it to be stable and a tooth prep for veneers that is similar to that of porcelain veneers, which are discussed next.
Porcelain
Because Feldspathic porcelain is a fairly fragile material that can easily chip or crack, a rather aggressive tooth preparation for veneers is required for adequate material thickness. Begin with a 1.0 to 1.5 mm of uniform facial reduction. Then create a 0.3 mm chamfer margin at the interproximal edges and a 0.5 mm subgingival margin to hide the junction of the porcelain with the unprepared tooth surface. Finally, reduce the incisal edge of the tooth by 1.0 to 2.0 mm.
IPS Empress Esthetic and E.Max
Both of these types of restorations use the same veneer prep guide. A medium grit rounded-end diamond bur is used to remove 0.8 to 1.0 mm of uniform thickness from the facial enamel. The incisal edge is then reduced by 1.0 to 1.5 mm. Finally, a chamfer margin is created to blend into the interproximal and gingival areas.
Zirconia
When preparing teeth for veneers with anterior zirconia, the axial walls must not have any undercuts. Uniformly reduce the incisal edge and facial aspect of the tooth by 0.7 mm to 1.25 mm. Then, margins are blended into the interproximal spaces using a 0.3 mm chamfer or modified shoulder.
Veneer Preparation Design
The illustrations below depict teeth prepared for veneers and convey an ideal overall facial veneer prep design. The exact reduction dimensions are dictated by the minimum thickness required for the final restorative material.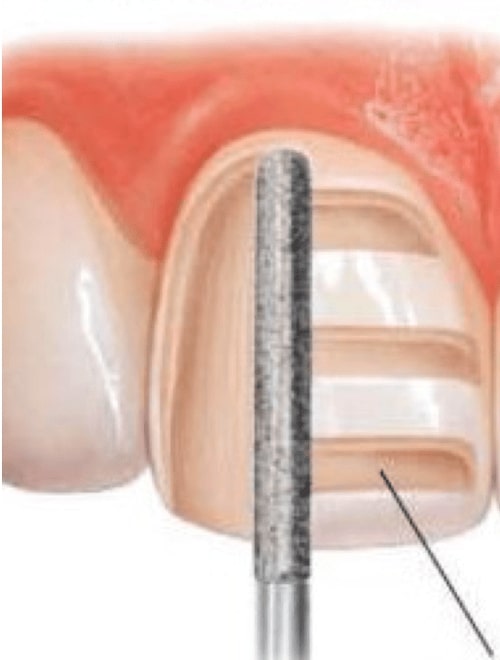 Fig. 1: Facial & Margin Preparation with Depth Grooves to Assure Uniform Surface Reduction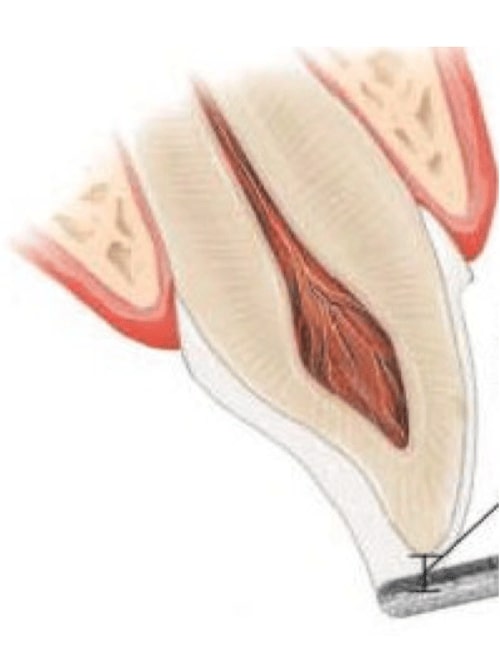 Fig 2: Angled Incisal Edge Reduction
Veneer Preparation Techniques
Cementation is an integral part of any dental veneer procedure. The cement represents the weakest link between the veneer preparation and the restorative material and must be chosen and applied with care for a long-lasting bond. What type of cement is used for veneers?
Today's universal cement of choice for maximum bond strength is a combination light-cured/self-cured glass ionomer resin. The type of cement used for veneers is important because the cement layer will show through translucent restorations, affecting their final appearance. Many veneer bonding systems offer tinted or color-corrected cement designed to achieve the ideal color while masking minor underlying discoloration.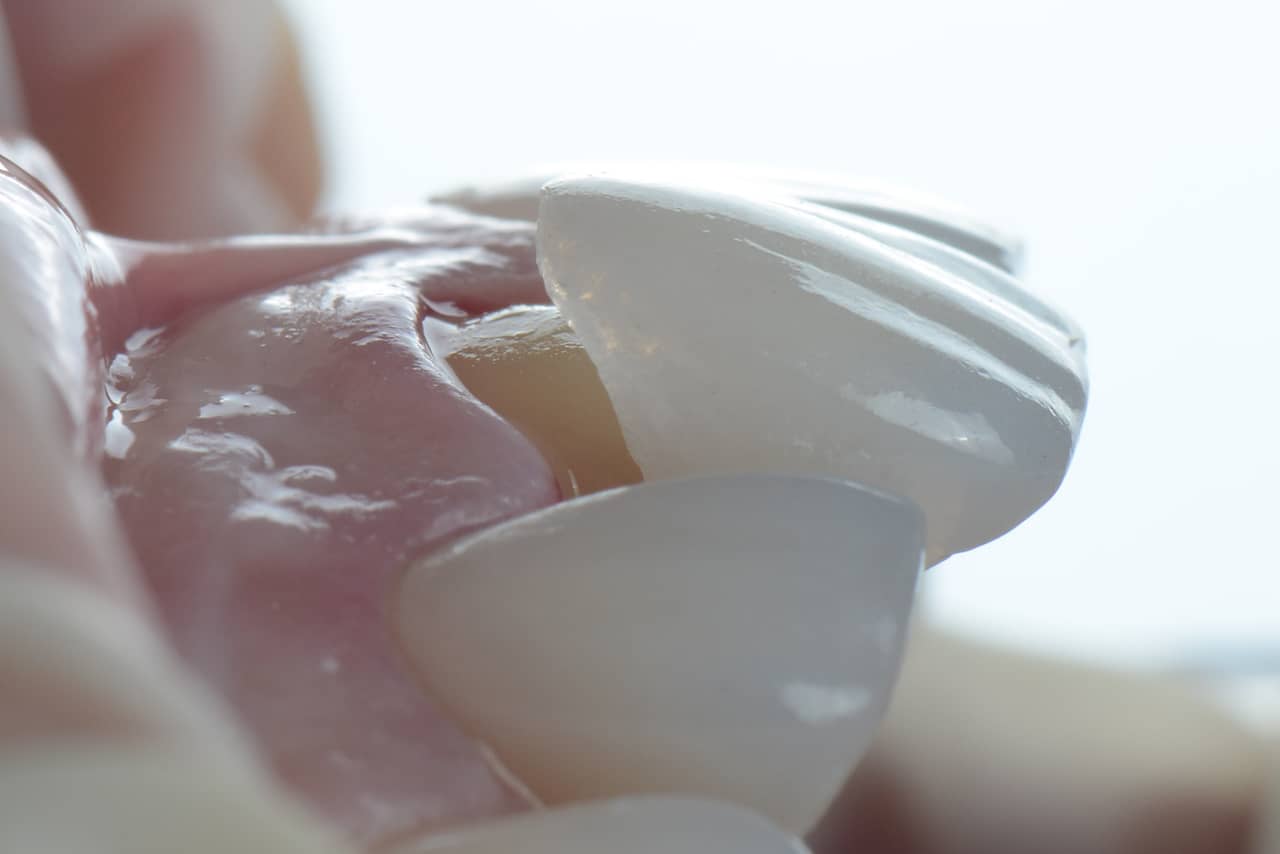 Next Level CAD/CAM Restorations
Stomadent Dental Laboratory is your source for all things veneers. Using the latest computer-aided technology and a totally automated workflow, Stomadent manufactures long-lasting ceramic veneers of unmatched beauty and precision fit. When it comes to smile design and smile makeover that makes your patients say "WOW," trust Stomadent to deliver! Contact us today at (833) 450-4102 for more information.
Don't miss a beat — when you need us, we'll be ready! Our dental starter kit includes everything you need to order dentures, dental crowns, dental bridges, and other dental prosthetics from our dental lab. See for yourself how we can help your dental practice succeed!
FedEx two-day return postage shipping labels

Laboratory prescription slips

Product and service inserts with price list