What is a Zirlux Acetal Partial Denture?
A Zirlux Acetal partial denture is a resin-based partial denture made from a special copolymer that is semi-flexible when thin and more rigid as the resin becomes thicker. This makes it an ideal material for fabricating a variety of tooth-supported removable prosthetics. Since it absorbs virtually no water, the appliance is less likely to develop stains or odors. Acetal behaves like a much-improved version of polymethyl methacrylate (PMMA), only stronger and more flexible, allowing Acetal resin to be formed into a thinner, more comfortable removable restoration that your dental patient will love.
Special Features of Zirlux Acetal
Zirlux Acetal partial frameworks are designed and milled from a void-free disk of copolymer using CAD/CAM technology for a precise fit. Flexible partial dentures are tissue-borne; Zirlux Acetal resin is different because it is semi-flexible. Its strength allows the manufactured framework to be supported by the existing dentition, much like a metal framework. Clasps are made from the same resin material. They have elastic memory and are designed to engage securely into the natural undercuts of abutment teeth for maximum hold.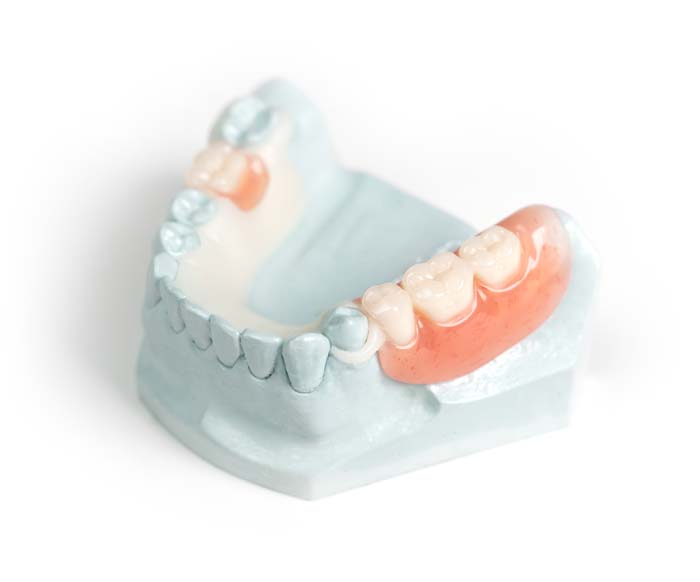 When to choose Zirlux Acetal over other types of partial dentures
Resin-based Zirlux Acetal is an ideal framework option for patients that are sensitive or allergic to free monomer used in traditional denture acrylics. Esthetically-conscious patients will enjoy having a partial denture that visually disappears in the mouth. This framework is suitable for partial dentures, Nesbit partials, or as a transitional appliance during healing for implant cases.
Zirlux Acetal Material Properties
Zirlux Acetal is made from 99.9% pure polyoxymethylene (POM), a highly crystalline and millable thermoplastic copolymer. Acetal resin properties include high tensile and flexural strength, fatigue resistance, low moisture absorption, and excellent dimensional stability.
Acetal has been successfully used in dentistry worldwide for more than 30 years in an injectable form. This material now comes in a millable form, which eliminates the problem of shrinkage during processing. Acetal resin cuts cleanly and quickly using either wet or dry milling methods.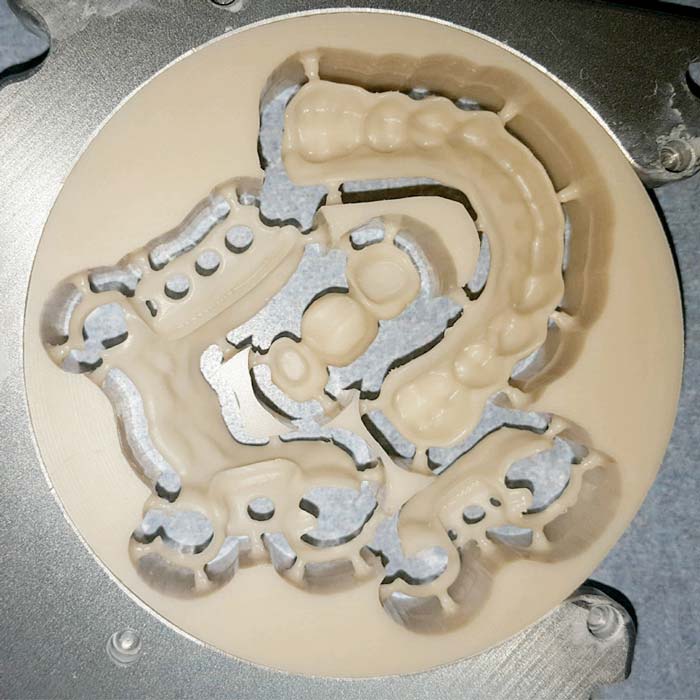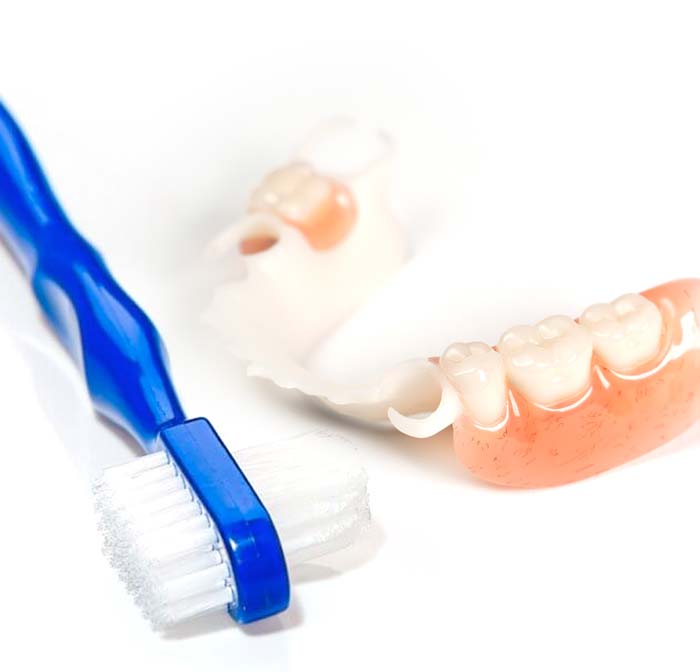 How to Care for Zirlux Partials
After meals, rinse the appliance under cool, running water to remove any debris or food particles. Use a soft bristle denture brush with a denture paste or liquid antibacterial soap to clean the appliance.
Never use any abrasives such as toothpaste meant for use on enamel, powdered household cleanser, or a hard-bristled brush to clean the partial denture.
Can you add teeth to a Zirlux Acetal Partial?
As a Zirlux Acetal provider, Stomadent Dental Lab has the equipment and expertise necessary to quickly and easily make reasonable minor repairs and additions to the resin partial using genuine Zirlux materials.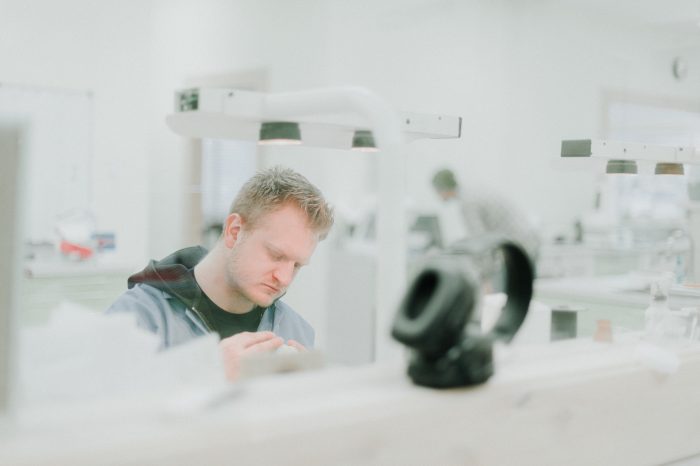 Zirlux Acetal Partials: Pros and Cons
Esthetic, durable, and metal-free tooth-borne removable partial dentures are made from Zirlux Acetal resin by CAD/CAM technology to exact specifications for a precise fit. The patient will appreciate the comfort, ease of wear, lack of a metallic taste, and no thermal conductivity when drinking cold or hot beverages. Like their metal counterparts, denture teeth must be physically bonded to the resin framework with denture acrylic or a monomer-free acrylic substitute.
Taking Impressions for Resin-Based Zirlux Acetal Partials
The teeth, hard tissue, and surrounding soft tissue of both arches may be digitally scanned using a chairside scanner. Data files are electronically transferred to the dental lab for incorporation into the digital processing workflow.
In the absence of a chairside scanner or for complex cases that involve missing teeth in multiple quadrants, bite registrations and impressions taken in scannable impression trays are sent to our dental laboratory. The records are scanned by a laboratory technician using a three-dimensional scanner that takes hundreds of images of the physical records at all angles in all dimensions.
With either method, the collected data files are used to construct virtually articulated three-dimensional models of the patient's dentition that can be rotated and viewed from any angle or any plane in space. This allows the partial to be designed via computer-aided design (CAD) and fabricated by computer-aided manufacturing (CAM).
Zirlux Acetal Color Choices
The millable copolymer material is available in VITA shades A1, A2, A3.5, B1, plus G2 (bleaching shade), and P1 (pink). These color choices allow for a wide range of color-matching options that work well in many situations and with different tooth configurations.
Zirlux Acetal Partials' Average Lifespan
An appliance made from this resin can last up to 10 years, depending on parafunctional habits and patient care.
Hybrid Partials: Zirlux Acetal Resin with Metal Frameworks
It is possible to combine Acetal resin partial denture elements with a Wironium or Titanium framework to create a hybrid partial that possesses the benefits and esthetic appeal of tooth-colored semi-flexible clasps with the added strength and rigidity of a metal framework. This option is particularly important in the case of free-end or long-span partials, where partials made from flexible or semi-flexible materials don't always function ideally during mastication.
Zirlux Acetal Partials Average Cost
Stomadent's price point to dental professionals for a custom-milled Acetal resin framework is $199. Additional pricing details and options may be found in our Removable Appliance Fee Schedule.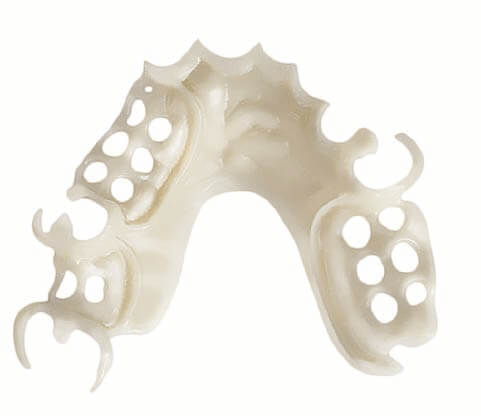 custom-milled Acetal resin
framework is $199
Delivery and Chairside Adjustments
Because Stomadent utilizes CAD/CAM technology to produce your partial denture, it fits precisely at delivery saving all-important chair time. Should adjustments be required, they may be accomplished with the same carbide burs used to adjust the denture base resin. Minor adjustments to the clasps can be made at the chairside by heating the clasps gently with hot air (a flame will burn the material). Alternatively, clasp adjustments may be made using pre-heated pliers. Final polishing can be accomplished with pumice and rag wheel.
Why Choose Stomadent?
Stomadent Dental Laboratory is a certified provider of Zirlux Acetal products. We know the material properties intimately and understand the benefits that a CAD/CAM-produced Acetal resin partial can bring to your patient. Stomadent wants to help you think differently about removable prosthodontics. With many color options available, we can provide your patient with a beautiful, comfortable result that they never thought possible.
Compare Partial Denture Options
Acrylic

Valplast

Acetal Tooth Shade Framework

Clear Framework

CR/CO Cast Framework

Titanium Framework

Comfort
Moderate
Good
Excellent
Excellent


Best Choice

Great
Great
Aesthetics
Moderate
Excellent
Great
Excellent
Good
Good
Stability/Fit
Good
Good
Excellent
Excellent


Best Choice

Great
Great
Weight
Heavy
Moderate
Light
Light
Heavy
Moderate


Best Choice

Durability
Moderate
Great
Great
Great
Excellent
Excellent
Relinability / Repairability
Easy
Difficult
Moderate
Moderate
Moderate
Moderate
Dentition Friendly
Moderate
Good
Excellent
Excellent
Moderate
Good
Clasp Type
Wire Metal
Valplast Gingival
Tooth Shade A1 - D2
Clear
Metal
Titanium
Manufacturing Method

Analog

Analog

Milled

Milled

Cast

Milled