At Stomadent, We Know Dentures
Our denture department is the foundation upon which the Stomadent Dental Lab was built. We continually implement new, advanced dental technologies and methods that improve the fit and comfort of oral prostheses. We constantly train our denture lab technicians to have extensive knowledge and experience with removable dental appliances. We consistently deliver high-quality dentures that are aesthetically pleasing and require minimal adjustment. With four categories of complete dentures, we offer your patients handcrafted appliances built by expert denture lab technicians based on their budget.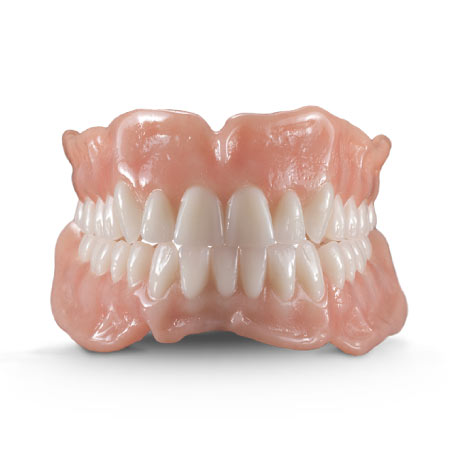 PMMA
Eclipse dentures fit better than traditional dentures. The material is monomer-free and eliminates allergic reactions that patients may experience with traditional dentures. Eclipse is a revolutionary prosthetic resin system that guarantees the fit at try-on will be the fit at delivery. After the master denture cast is poured, our dental lab constructs a wax try-on model on a base plate that later becomes part of the finished denture. This reduces distortion and guarantees a precise fit. Eclipse materials are monomer-free, eliminating tissue reactions. Eclipse is an ideal choice for full dentures, partial dentures, night guards, and temporary partial dentures.
Quick Facts
No distortion and better fit

Fit at try-in is the fit at delivery
PhysioStar® NFC
Signature Complete Denture
PhysioStar® dentures are the individual surface structure for natural aesthetics and beauty. Each PhysioStar tooth has its unique surface structure created to mimic natural-looking teeth. The PhysioStar signature tooth lines are aesthetically appealing and are as unique as each patient.
With a focus on the surface finish, each fake tooth has a smooth surface with a high-gloss coating. Similar to incremental growth lines that appear on the surface of the tooth enamel, the PhysioStar tooth line simulates the perikymata linear grooves and highlights the unique structure of the tooth.
Unlike natural teeth that show signs of wear over time, PhysioStar teeth resist staining and continue to look great for years to come. PhysioStar® anterior teeth use a patented layering pattern for each denture mold. Additionally, the bright interdental flanks help avoid shadows in areas between teeth, giving each false tooth a more natural-looking appearance.
Quick Facts
Resistant to wear and staining

Simulates the perikymata linear grooves

Patented anterior layering for each mold
Basic
Basic can still be beautiful!
The Artic® tooth line displays natural colors and translucency. The multi-layer design is available in the most popular molds and shades, from A1 through D4.
Artic dentures are made using a patented injection compression process that produces teeth that are dense and hard with a superior finish. Produced using INCOMP technology, the teeth look strikingly natural with beautiful translucent colors. Artic denture teeth are incredibly durable and are an ideal choice for beautiful, value-driven removable appliances.
Anterior Teeth
The Artic® 6 consists of multilayered, life-like, aesthetically pleasing anterior teeth. These anatomically shaped teeth adapt perfectly to existing dentition and to complete dentures. They are available in 16 shades, from A1 to D4, and in 33 different anterior molds.
Posteriors
The Artic® 8 posterior teeth are available in 22 molds and four different angulations. The teeth provide a superior physiological function, accurate intercuspal relationship, perfect occlusion, and an even distribution of the masticatory load. Their unique hollow neck improves the retention of the denture base material. The Artic 8 guarantees an easy transition to the patient's mouth.
Quick Facts
Natural colors ranging from A1 to D4

Anatomically-shaped teeth for a pleasing, life-like appearance

Teeth are produced using a patented injection compression process

Durability for a value-conscious appliance

Posterior teeth are available in four different angulations

Even distribution of masticatory load improves function

Hollow neck design of posterior teeth improves retention to the denture base
Don't miss a beat — when you need us, we'll be ready! Our dental starter kit includes everything you need to order dentures, dental crowns, dental bridges, and other dental prosthetics from our dental lab. See for yourself how we can help your dental practice succeed!
FedEx two-day return postage shipping labels

Laboratory prescription slips

Product and service inserts with price list