Bruxism Nightguards, Splints, and Sports Mouthguards
Auxiliary Removable Appliances that Provide Value and Service to your Patients
Bruxism Nightguards, Splints, and Sports Mouthguards
Auxiliary Removable Appliances that Provide Value and Service to your Patients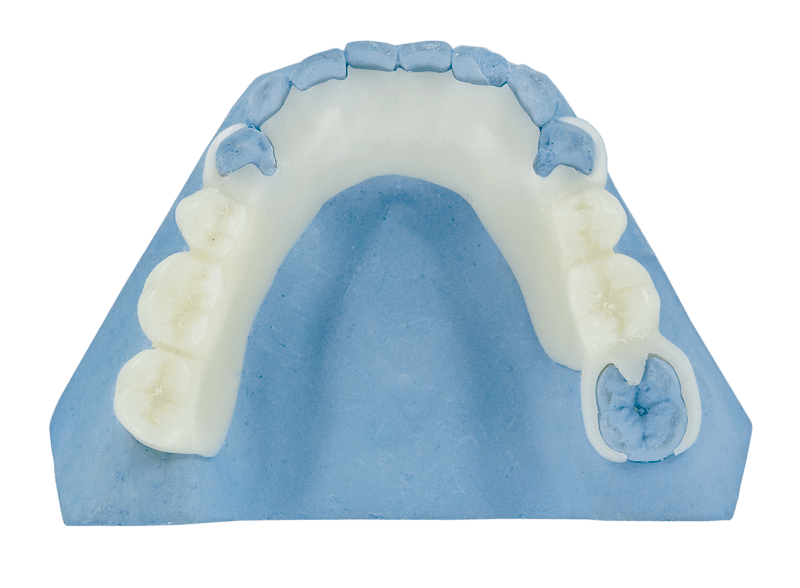 By Dr. Hudnall DMD
Protection of teeth and the surrounding structures is the name of the game when it comes to offering nightguards, splints, and sports mouthguards to your patients. Try as we might, dentists can never totally restore exactly what was original to the human mouth. Given a choice, preventing damage to the teeth is always a better option than relying on reconstructive dentistry to put back what was lost to abrasive forces or injury.
Night Guards for Bruxism Patients
Stomadent Dental Laboratory offers solutions specifically designed to address the symptoms and needs of bruxism sufferers. Over-the-counter nightguards can't offer the same fit and comfort that a laboratory-processed appliance can. Stomadent understands that having a precise-fitting, comfortable appliance is key to nightguard use. If a nightguard sits in a drawer because it is bulky, uncomfortable, or otherwise doesn't fit securely, the patient receives no benefit from nightguard therapy.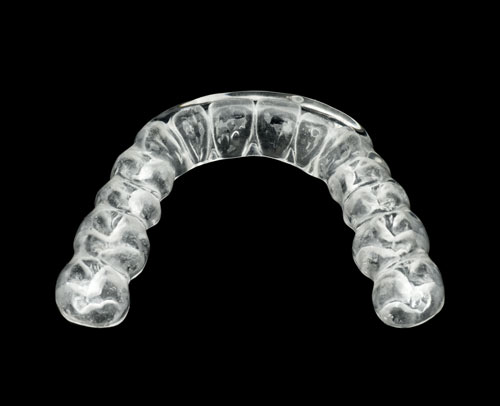 Quick Facts About Bruxism
Bruxism often prevents the sufferer from getting restful, restorative sleep which causes adverse effects on the physical and psychological health and well-being.
Unconscious grinding increases the pressure applied directly to the teeth by 10-fold or greater compared with patients who do not suffer from bruxism.
Stress is the #1 contributing factor to bruxism.
Bruxism is estimated to impact 10-20% of the total population.
Currently there are 10 million patients who suffer from some form of TMJ/bruxism symptoms in the US alone.
KeySplint Bruxism Guard by Keystone Industries
KeySplint nightguards and splints are a true game-changer. Manufactured specifically for your patient to exacting specifications via a digital workflow and state-of-the-art 3D printing, KeySplint has revolutionized nightguard fabrication with proprietary materials that offer two different modified methacrylate chemical formulations – KeySplint Hard and KeySplint Soft. You choose the appropriate material that best addresses your patient's needs and unique situation.
KeySplint Hard
Designed to offer greater abrasion-resistance for patients who wear through most dental materials, including your restorations. Equivalent to laboratory-processed Lucitone 199 in strength, KeySplint Hard exhibits excellent wear-resistance without tearing, cracking, or failure from material fatigue.
KeySplint Soft
Designed to offer greater comfort through the use of a material that remains flexible and tough without becoming brittle over time while protecting teeth from the damaging effects of bruxism.
KeySplint Bruxism Night Guard Benefits:
Biocompatible
Extreme Durability
Resilience for Enhanced Comfort
Transparent
Color Stable
Stain-resistance
Easily Cleaned and Maintained by the Patient
Precisely Manufactured via 3D Printing
All Materials are US FDA 510k-Cleared
Complies with International Medical Device Regulations and Standards
Polishing Is Easy
Most 3D-printed appliances arrive ready to deliver without additional adjustments. Should your KeySplint require any minor adjustments at delivery, Keystone Industries offers these helpful finishing and polishing recommendations.
Digital Nightguard Solutions from Stomadent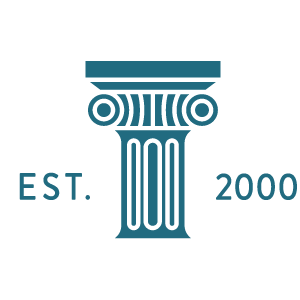 As the best and most reliable dental lab for nightguards in the Northwest US and now nation-wide, Stomadent Dental Laboratory is proud to be a provider of products that we believe in and are known to offer distinctive benefits to the end user. KeySplint nightguards are articulated for precise occlusion, fit correctly at delivery, and offer revolutionary comfort to your patient. Trust Stomadent to bring you the latest innovations that allow you to offer much-needed services to your patients with a minimal investment of chairtime.
Laboratory-fabricated sports mouthguards are designed and fabricated from a flexible material with properties that allow for precise fit, retention, comfort, and the best cushioned protection possible. No boil and bite mouthguard can offer the same quality appliance or level of protection.
Athletes are 60 times more likely to suffer damage to the teeth when a sports guard is not worn.
Multiple sources estimate that one dental injury from a sports impact can cost the player more than 20 times the cost of a laboratory-processed dental mouthguard. Sports mouthguards are an investment in the safety and long-term health of your athletic patients.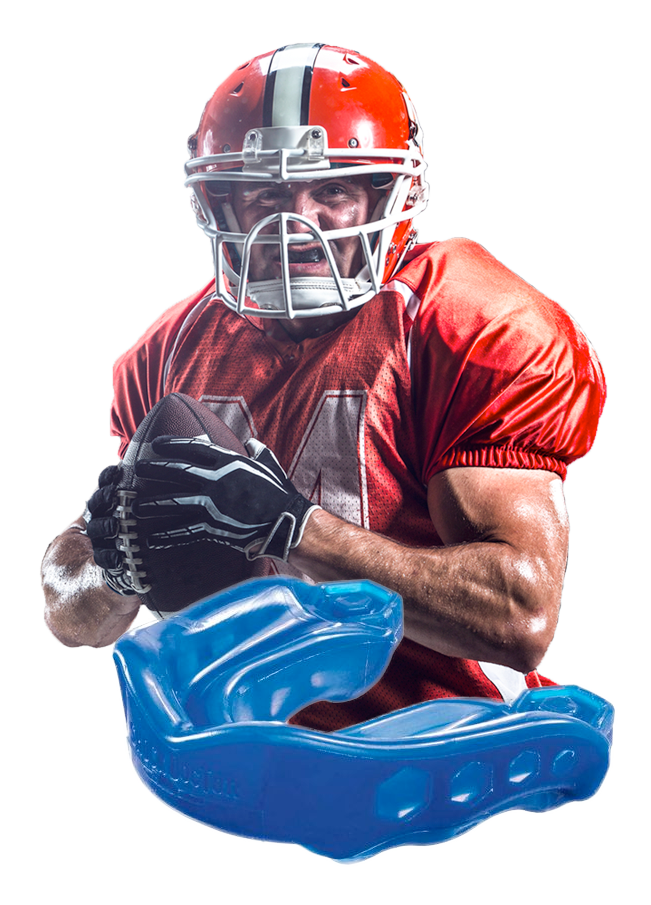 Benefits of Laboratory-Fabricated Sports Mouthguards
Easier to Breathe and Speak
Because sports mouthguards fabricated by a dental laboratory are precisely manufactured to fit the individual's teeth and tissue contour, athletes are able to speak more clearly and breathe easier without the fear of their mouthguard becoming loose or falling out during play.
Offer a High Level of Protection
A loose mouthguard does not offer the same level of protection to the teeth and bones as a well-adapted appliance does. Many of the "boil and bite" mouthguard kits allow the teeth to overstretch the material while making the mold of the teeth. This causes the material that covers the teeth to become thin, resulting in less than adequate tooth protection.
Helps Reduce Trauma and Injury
Sports mouth guards are proven to save teeth and the surrounding structures. Properly-fitted sports mouthguards help protect the soft tissues of the lips, cheeks, gums, and tongue by covering sharp tooth surfaces. Mouthguards also reduce trauma and injury to the TMJ, lessen the force of impact, and prevent fracture of the posterior teeth and the jaw itself.
Pro-Form sports mouthguards by Keystone Industries
Pro-Form sports mouthguard material by Keystone Industries is manufactured through a unique process of laminating two or three layers of soft EVA (ethylene vinyl acetate) together, giving the finished laminate excellent tensile strength.
EVA is biocompatible and free of harmful BPA, monomer, and latex, making it one of the safest mouthguard materials in use today.
The sports mouthguard fabricating process also allows the EVA material to maintain sufficient thickness over each individual tooth in order to adequately adapt to and protect the cusps and incisal edges from injury.
Pro-Form sports mouthguards are used in all facets of sports, from professional teams to Little League.
How long will a custom sports mouthguard last?
With proper care and depending on wear, a custom mouthguard can be used for more than one year before it needs to be replaced.
Custom Sports Mouthguard Options
Pro-Form offers a custom sports mouthguard material available in a multitude of colors, designs, and patterns. When it comes to Pro-Form mouthguards, there is something unique and special for every athlete and every sports team. Stomadent Dental Laboratory has many of these options available. Call us for specific details about Pro-Form sports mouth guards!
Whether you need a dental lab to make nightguards, splints, or sports mouthguards, Stomadent Dental Laboratory is your go-to source for protective dental appliances. Our team has years of experience and specialized expertise working with these unique dental materials. We offer assurance that each guard appliance will be custom-made to fit your patient's individual situation using the highest standards possible. The best dental lab for removable mouthguard appliances is Stomadent!