Hybrid Cast/Flexible Partial Dentures:
Taking Partials a Step Further
Hybrid Cast/Flexible Partial Dentures:
Taking Partials a Step Further
By Dr. Hudnall M.D
Cast metal partial dentures have been considered the standard of care for removable tooth replacement for a very long time. From the dentist's perspective, they are functional and serve to fill the space left by the patient's missing teeth. But if you ask patients who wear one, most will say they really don't like metal inside their mouth. They are functional but don't always look good. Patients often dislike the unsightly metal showing when they smile or talk, the going to the bathroom after a meal to remove debris, and the fact that metal does not always blend seamlessly with the natural teeth, and the list goes on. A hybrid removable partial denture may be the best overall choice. Hybrid partials combine the best features from both cast metal and flexible partials. In today's appearance-conscious society, they may be the right solution for your removable appliance patient.
One solution is a totally different approach – a flexible partial denture. Flexible partials are made from thin, lightweight, thermoplastic material that is injection molded for precise tissue adaptation. They provide comfort for the wearer and offer improved aesthetics without the use of metal clasps – or any metal at all. Their strength is obtained from tissue coverage. In many cases, it is difficult to tell where the partial ends and the natural teeth begin. The materials utilized are hypo-allergenic and suitable for patients with allergies to denture monomers or nickel.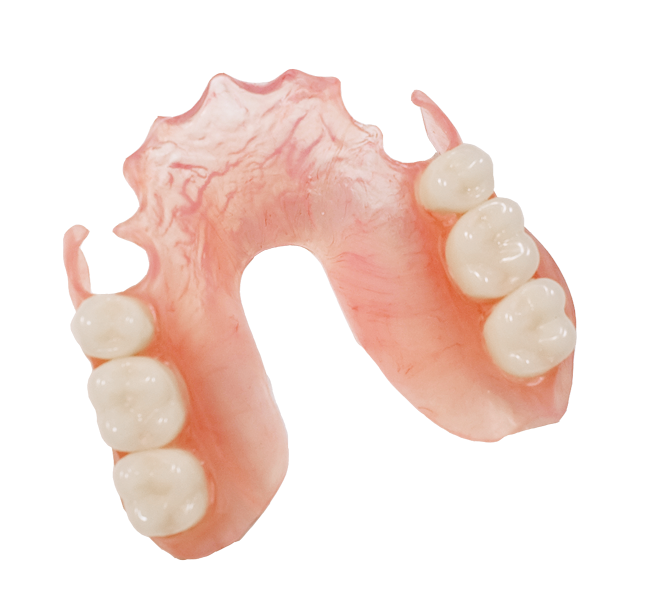 But there are drawbacks.
Flexible partials are just that – flexible. And that can be both good and bad. Kind to the tissue, the baseplate material flexes when chewing. Good for aesthetics and comfort. But they don't work so well when used to replace a long span of missing teeth or for a distal extension. In some cases, the retention is compromised as compared with a cast-metal partial. The trade-off for improved appearance can evoke a frustrating experience for a former cast-metal partial wearer.
Not all flexible partials are created equally.
There are different types of flexible partial denture materials. Each has its own unique and distinctive properties, applications, advantages, and disadvantages. What other aesthetic options do we have when a flexible partial is not the right option for a particular patient?
Valplast Partials
Valplast is manufactured from a combination of biocompatible nylon and thermoplastic resin. It is a great choice as a Nesbit partial for replacing one or two missing teeth, for patients who have teeth present on both sides of edentulous areas, and for patients whose teeth are less stable due to periodontal disease or recession. Since Valplast clasps don't really touch the tooth – they hug the gums, they are kind and gentle to the natural dentition. Because there are no tooth-supported occlusal rests, they rely on excellent adaptation to the underlying tissue for precise fit. Valplast is available in 3 tissue shades. The clasps are adapted close to the gingiva and are also made from tissue-colored or clear material, depending upon the location.
When we combine Valplast material with a vacuum-casted Wironium nickel-free metal framework, we gain additional support, stability, and retention. It is also possible to design a long span with less movement than with Valplast alone. Metal rests and semi-flexible malleable Wironium clasps provide additional support to the tissue-borne Valplast material and may be placed in areas that do not intrude on the aesthetic zone.
Consider a case with the following configuration: The patient has a crown on #3, #6-11 is a bridge, and #15 is an implant supported crown. The patient is also concerned that the anterior bridge is aging and they don't want to replace it anytime soon. With this configuration, it is possible to use metal clasping and rests for extra stability and support in the posterior. This allows Valplast clasps in the anterior to "baby" the tooth-supported bridge that may have some minor periodontal involvement.
With any case there are trade-offs. You, the clinician, must understand your patient's goals and help them to decide what the best overall solution for them may be.
Thermoflex Partials
Another flexible partial denture alternative is Thermoflex manufactured by Dentsply Sirona. Thermoflex partials are made from a monomer-free polyacetal resin, available in 3 colors to blend with most tissue shades. Like Valplast, Thermoflex is a great option for replacing teeth in the aesthetic zone when the missing teeth are surrounded by natural teeth or crowns that can support the partial. The Thermoflex flexible material is also available in 16 tooth-color shades that correspond to the Vita shade guide. This makes Thermoflex possible to gain additional retention and stability in the form of tooth-colored clasps and rests without compromising aesthetics. Elastic memory allows the Thermoflex clasps to drop into deep undercuts for security, similar to that of a metal clasp but without the unsightly appearance. Tooth-colored rests also prevent the partial from over-seating when flexing and chewing. While this is a wonderful feature, it may cause Thermoflex may not be the best option of materials when it comes to patients with bruxism. A heavy bruxer can wear the rests, affecting the fit of the partial denture by allowing the baseplate to over-flex and over-seat with time.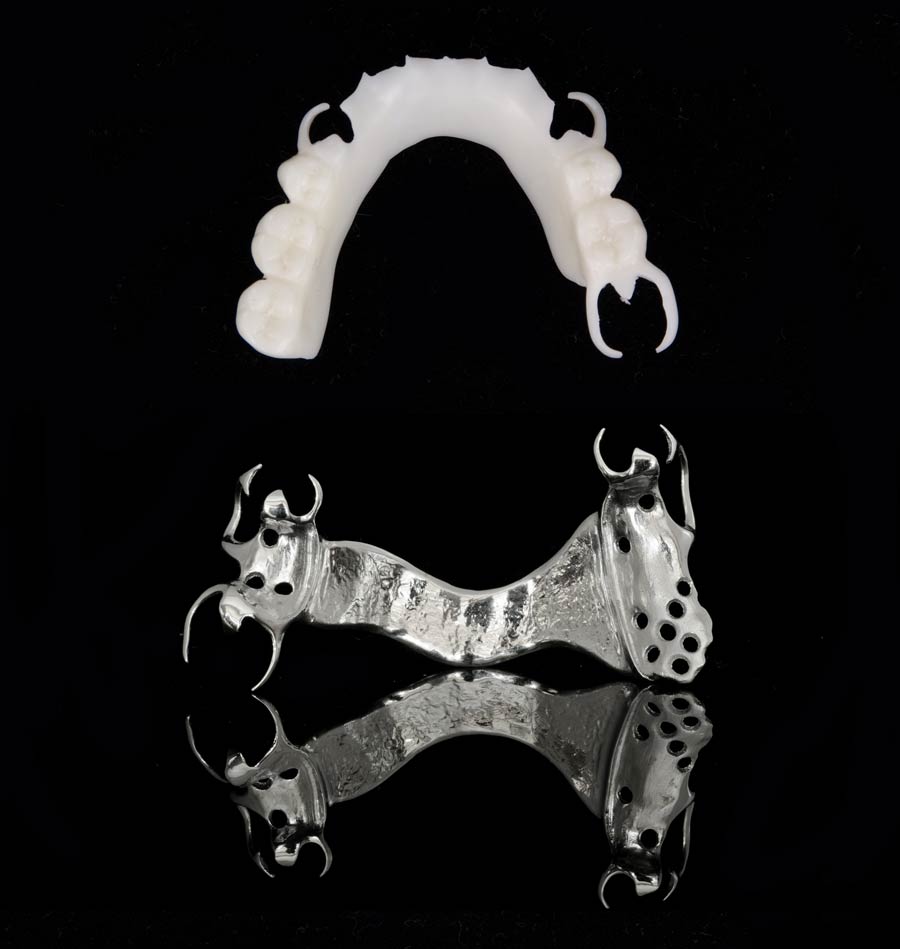 If we marry Thermoflex with a Wironium framework, different possibilities open up. This is because it is possible to gain retention both from metal and Thermoflex tooth-colored clasps and rests. Since Thermoflex is available in 16 tooth shades, it is possible to match a particular tooth with the shade-appropriate clasp.
Consider the following: The patient has an existing crown with metal occlusion on #19 and natural teeth #22-27 remaining. He would like to replace the missing teeth with the most aesthetic removable option possible. A Wironium framework is constructed with metal occlusal rests and clasps on #19, where visible metal is not an issue, and small lingual rests on #22-27 for additional framework stability. Then #22 and #27 would receive tooth-colored Thermoflex clasps and bracing arms to eliminate the need for unsightly metal in the front of the mouth.
Reline or Rebase
If it ever becomes necessary to reline or rebase a flexible or hybrid partial to improve the fit, coat the tissue side and borders of the partial with impression adhesive. Take a wash impression inside of the existing partial using light-body polyvinyl siloxane (PVS). Have the patient close into occlusion. Once the impression has set, take a full-arch alginate impression with the partial in place. Then remove the alginate impression and the partial with the wash impression as one unit. Examine to be certain that nothing shifted or moved. Pour the impression and send it to Stomadent along with the appropriate laboratory prescription. Be sure to list the type of flexible material and shade that was originally used to fabricate the partial.
By combining a Wironium denture framework with Valplast or Thermoflex, it is possible to have stability and function with a free-end or long-span partial while simultaneously eliminating ugly visible metal from the smile line. The possibilities and combinations are endless and can be customized to suit any particular need or tooth configuration. If you have questions about an approach to a specific case, contact us. We want to be a part of your dental team!
Stomadent Dental Lab is your go-to source for flexible and hybrid partial dentures. As one of the best and most reliable dental labs serving practices in Idaho, Montana, Washington, Oregon, Wyoming, and doctors around the United States and Canada, our denture lab technicians have the training, expertise, and experience with these materials to help you achieve a custom-designed removable appliance that fits your patient's unique functional and aesthetic needs.
Switching denture labs can be stressful
Receive our hassle-free dental lab kit to get started!
Don't miss a beat — when you need us, we'll be ready! Our dental starter kit includes everything you need to order dentures, dental crowns, dental bridges, and other dental prosthetics from our dental lab. See for yourself how we can help your dental practice succeed!
FedEx two-day return postage shipping labels

Laboratory prescription slips

Product and service inserts with price list