Lunch and Learn for CE Credit: Removable Dental Appliances
[iee_empty_space type="vertical" height="20″ width="10″ hide_on_mobile="small-visibility,medium-visibility,large-visibility" class="" id="" /]
Lunch and Learn for CE Credit: Removable Dental Appliances
Lunch and Learn events offer dental and dentistry professionals a viable opportunity to become more familiar with emerging topics in dentistry while earning continuing education credits. These events feature knowledgeable professionals, specific to their field of expertise, providing practical information about dental products, services, or technology. Course attendees are able to eat lunch while engaging with the material from the comfort of their own facility.
Stomadent Lab Lunch and Learn Series for CE Credit
The Stomadent Lunch and Learn program is an excellent way to satisfy state licensure requirements while having the convenience of the course brought to you, either in-person or virtually via Zoom.
These learning opportunities offer great schedule flexibility, team building, and collaborative interactions with peers and colleagues. The successful completion of a course earns each participant one accredited CEU in exchange for one hour of training.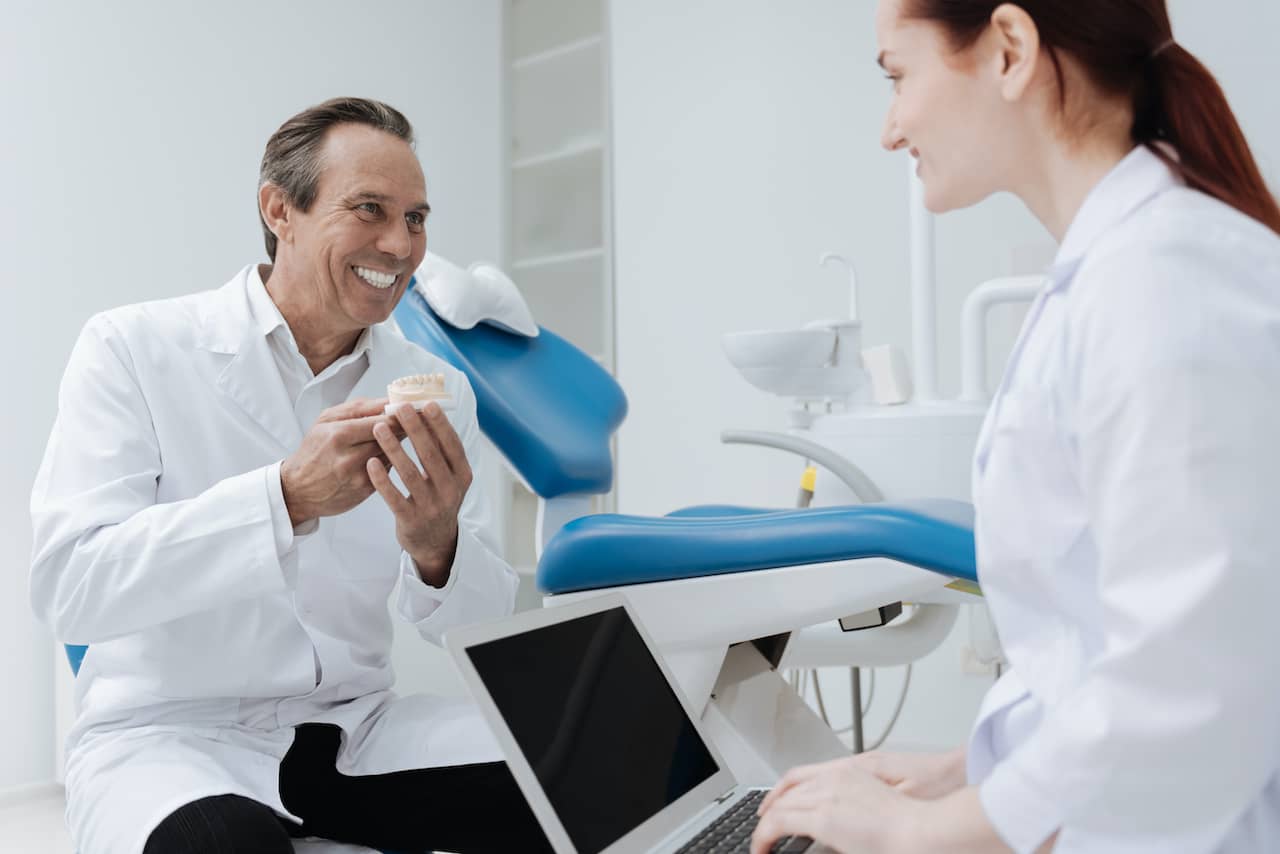 Topics Covered in Our Lunch and Learn on Removable Dental Appliances
The removable dental appliance course will cover complete dentures and highlight the five types of partial dentures offered by Stomadent Dental Lab all from the perspective of CAD/CAM technology. The discussion centers around the digital design and manufacture of these removable dental appliances. Digital dentistry offers numerous benefits to dentists including comfortable and precise-fitting restorations that require almost no adjustments at delivery.
Types of Removable Dental Appliances and Materials
Below are brief descriptions of seven types of removable dental appliances for your reference.
Titanium Frameworks
Nearly indestructible titanium partial frameworks are milled to the exact design from a plate of solid raw material. Since titanium is biocompatible, it is suitable for many patients and applications.
Wironium Frameworks
Wironium has the benefit of being thin and comfortable to wear while possessing incredible strength. Clasps made from Wironium are easily adjusted but difficult to break.
Flexible Partial Dentures
When great appearance and kindness to the teeth are the goals, choose a Valplast flexible partial with gum-colored clasps that blend seamlessly with the tissue.
Semi-Flexible Partial Dentures
Tooth-colored partial denture frameworks with tooth-colored clasps are milled from acetal resin. The result is an aesthetically pleasing partial denture that blends seamlessly with the patient's natural teeth.
Acrylic Partial Dentures
Not your traditional acrylic partial denture. This CAD/CAM partial is fabricated from pre-processed denture acrylic that eliminates shrinkage for an exact fit.
Printed Complete Dentures
Printed dentures are a quick and easy way to fabricate basic or immediate dentures using an additive technique to construct great-fitting full arch removable appliances.
Milled Complete Dentures
Dentures and companion multi-layered denture teeth are separately milled from solid blocks of high-quality denture materials to become joined into beautiful full-mouth restorations that fit as great as they look.
Digital Dentistry and the Benefits of Going Digital
Traditional vs. Digital Partial Denture Designs
Traditional partial denture designs tend to be labor-intensive and error-prone, which results in modifications and adjustments to the final product for a proper fit. Digital designs use exacting and precise measurements that allow the final dental appliance to fit more comfortably without the need to make numerous refinements at the chairside.
CAD/CAM-Designed Partial Dentures
CAD/CAM takes the guesswork out of removable dental materials. Because it begins with a solid block of raw material to fabricate either the framework, baseplate, or denture teeth, the final product is not filled with voids that can lead to fracture. Acrylics are not subject to shrinkage and delayed release of chemicals after processing, resulting in a partial denture that fits exactly as it was designed to.
Digital Complete Dentures
Teeth and baseplates for complete dentures are CAD/CAM designed and 3D printed or milled rather than depending on the traditional labor-intensive reverse image method that carries processing errors through to the final appliance. Digital dentistry and new generation dental materials have greatly increased the accuracy and fit of dentures and allow complete dentures to be made in less time, reducing laboratory turnaround.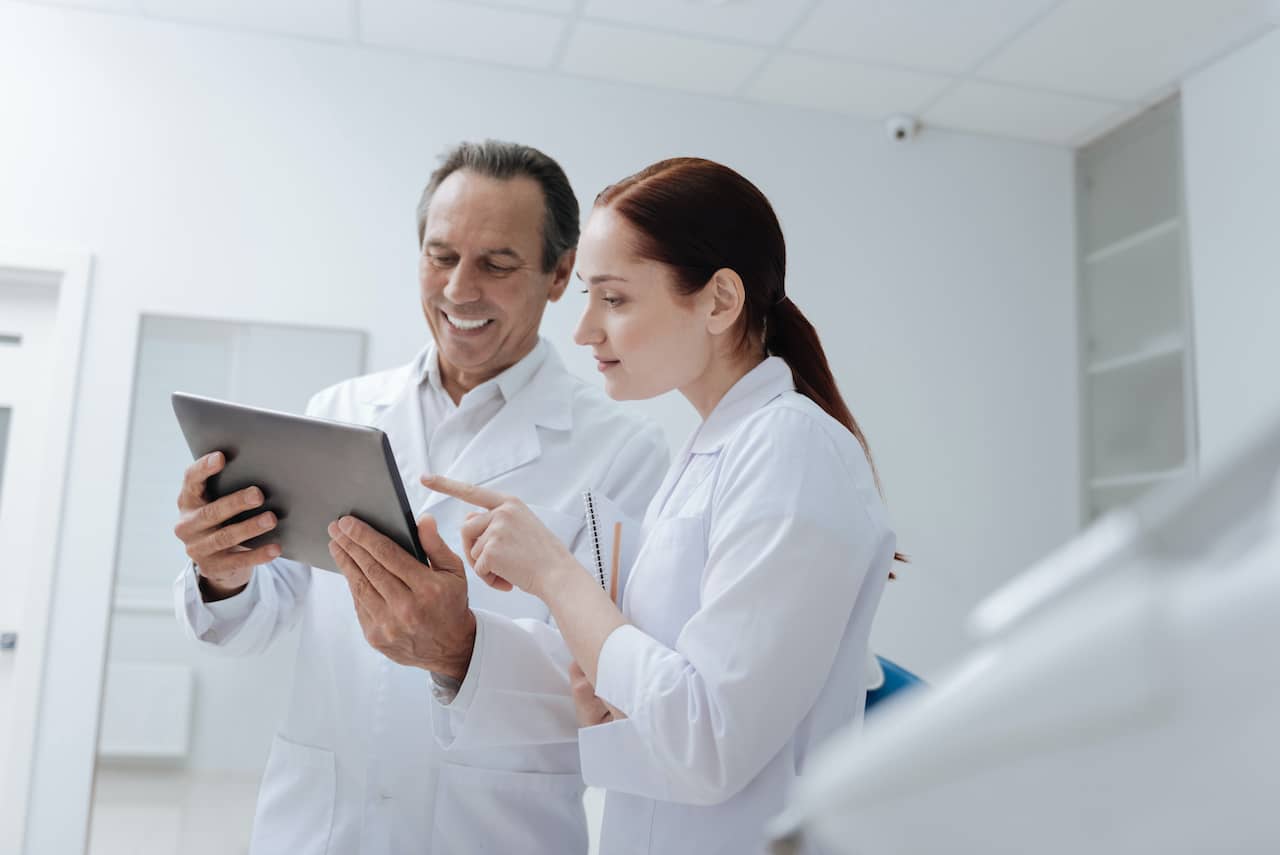 A Unique Approach To CE Courses for Dentists
Stomadent has taken a unique approach to CE courses for dentists. Read on to learn what makes this Lunch and Learn special.
Traditional CE Courses
Until the COVID-19 pandemic, the vast majority of CE courses for dentists and staff were being offered as in-person events, either in a lecture format or as a hands-on experience with direct interaction. Many courses were made available in conjunction with a dental school or society during an extended weekend gathering. Attending these conferences allowed dentists and staff to meet with their counterparts that traveled from many places to convene for a time of learning and comradery.
Three Facets Separating This Lunch and Learn from Traditional CE
Flexibility
Instead of adjusting your work schedule to attend an off-site event, dentists can choose a time that works best for them. Having the ability to choose events that fit your specific time constraints can widen the number of events that you can attend.
Convenience
Since a Lunch and Learn event focuses on maximizing educational opportunities during a lunch period, you can use your mid-day to stay abreast of new concepts in dentistry. Virtual events offer the convenience of attendance from wherever you are.
Team Building
Because Lunch and Learn events can be tailored to more closely match your interests, learning with your team builds an understanding of the course material and allows everyone the opportunity to implement new techniques and ideas into your daily workflow immediately after the training.
How To Register for Our Lunch and Learn Course
Stomadent offers Lunch and Learn opportunities regardless of physical distance from our laboratory. We'll come to you if your facility is within Idaho's Treasure Valley or adjacent areas. Otherwise, the seminar will be conducted via Zoom.
Either way, we will have food brought in from a local restaurant for you to enjoy. While you eat, our presenter will discuss the process of creating removable dental appliances in light of the digital dentistry revolution. The material presented is designed to be informative and practical, allowing you to implement what you have learned directly into your practice. At the end, there will be time for questions and answers. CEU credit is awarded based on taking a quiz at the end of the session.
To register for this course, complete the sign-up form.
Alternatively, you can call us toll-free at 833.450.4102. One of our friendly staff members will be happy to assist you with enrollment.