Traditional vs. 3D Digital Denture Impressions:
Has Technology Made Traditional Dental Impressions for Dentures and Lab Stone Obsolete?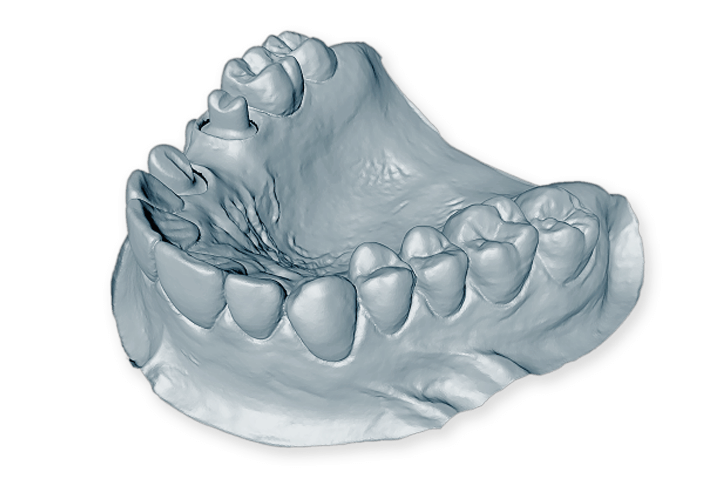 3D Scanned Denture Impressions and Printed Models:
Has Technology Made Traditional Impressions and Lab Stone Obsolete?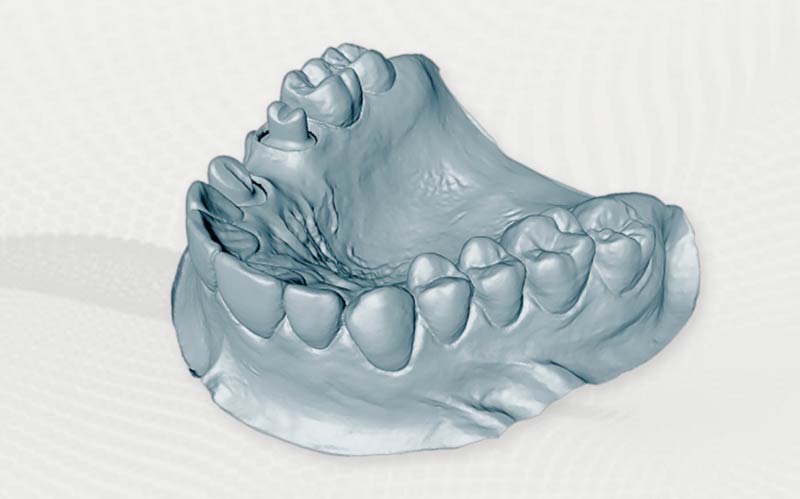 By Dr. Hudnall DMD
Computer technology is everywhere and has become a ubiquitous part of today's modern society. The idea of digitizing data is used in everything from those photos you snap of your food with your cell phone to 3D CAD/CAM parts for your car.
So what about dental impressions for dentures?
Digital radiographs and 3D imaging have become the standard of dental care in the 21st century. Using an intraoral scanner with digitized data for 3D dental impressions instead of a traditional impression for a dental crown is now commonplace.
[iee_empty_space type="vertical" height="10″ width="10″ hide_on_mobile="small-visibility,medium-visibility,large-visibility" class="" id="" /]
Traditional vs. digital Impressions: which ones work best to make a set of dentures that fit well?
Has technology progressed to a point that polyvinyl siloxane and rubber base impressions are a thing of the past? The answer is yes and no. It depends on what dental appliances you are providing.
Traditional vs. digital Impressions: which ones work best to make a set of dentures that fit well?
Has technology progressed to a point that polyvinyl siloxane and rubber base impressions are a thing of the past? The answer is yes and no. It depends on what dental appliances you are providing.
If you plan to fabricate immediate dentures for a patient who still has most of his teeth, digital impressions will work. That is because current intraoral scanners work well at capturing accurate digital images of the teeth and other hard tissues present in the mouth if the clinician systematically scans the mouth without creating overlap and distortion. If the patient has some natural teeth that occlude, it is possible to reproduce most everything present in the mouth digitally without taking immediate denture impressions for dentures or a bite registration. The scans are saved into STL (standard tessellation language) files and sent electronically to the denture lab where specialized software is used to "print" 3D models that can be articulated into centric occlusion.
This technique was demonstrated in an article by Dean H. Saiki, DDS, published in Glidewell's Chairside Magazine. The clinician in this article thoroughly scans the patient's teeth and tissue that is affixed to the bone and scans the periphery of soft tissue directly adjacent to the hard tissue.
From a practical standpoint, an immediate denture doesn't have to fit perfectly because the tissue and underlying bone are expected to shrink and change with healing. Since immediate dentures will require relining as healing progresses, it makes sense to test the digital impressions for complete dentures technique on an immediate denture case. As a clinician who has literally made thousands of immediate and replacement dentures over the course of my career, if I were going to delve into taking impression-less dentures today, this is where I would start. There is less that could go wrong. It gives you the opportunity to develop a reproducible scanning technique that works well in your hands. And if the fit doesn't work out as expected, the denture can be altered with a chairside denture reline — which you are going to do anyway.
3D dental impressions for the fully edentulous patient.
Other than the hard palate and alveolar ridges, there really are no other stationary landmarks. All of the soft tissue and muscle attachments move in function. Some patients have moveable mucosa that extends well onto the crest of the mandibular ridge. Can a digital scanner accurately record the full depth of the vestibule and the range of motion of the soft tissue while in function in order to fabricate a denture that fits well?
Consider what we have to do when taking a physical dental impression for dentures. Dentists typically adapt or customize the impression tray to approximate the patient's anatomy and use an impression material that will capture the full depth of the vestibule. We also have the patient move their tongue and cheeks in the early stages of the impression setting to capture the range of motion. This is how we, as clinicians, obtain a good-fitting set of dentures — with well-adapted, accurate impressions that fully capture all of the fine details of the patient's anatomy and an impression that has suction when removed from the mouth.
Currently, there are case studies in the dental literature that have fabricated impression-free dentures utilizing scanners that are available now. Many of these studies involve making dentures to near completion. Because the fit or the occlusion was not ideal, a dental laboratory remount was performed to improve the occlusion and/or the denture was border molded in order to extend the flanges and a denture reline impression was taken to reprocess the dental appliance for the purpose of improving the fit before the final denture delivery.
From a dental practice standpoint, these things amount to a lot of extra steps. Realistically speaking, would your patient come for the additional appointments required and would the necessary extra steps to obtain great fitting dentures "impression-free" be cost-effective for you? The procedure is really not "impression-free" if you must take denture reline impressions to make them fit correctly.
With the scanning technology currently available, an excellent-fitting complete denture must be fabricated without the benefit of border molding. Like taking physical impressions, scanning the entire mouth to create an accurate picture of all of the anatomy present is technique sensitive and subject to distortion. In fact, distortion and incomplete scans with crown preparations are a principle complaint of dental lab technicians when it comes to scanned reproductions. If there is distortion at the junction of the soft and hard tissue, the final dental restoration is compromised. With a scan of the entire mouth, denture fit is compromised if the fixed and moveable tissue was not accurately captured.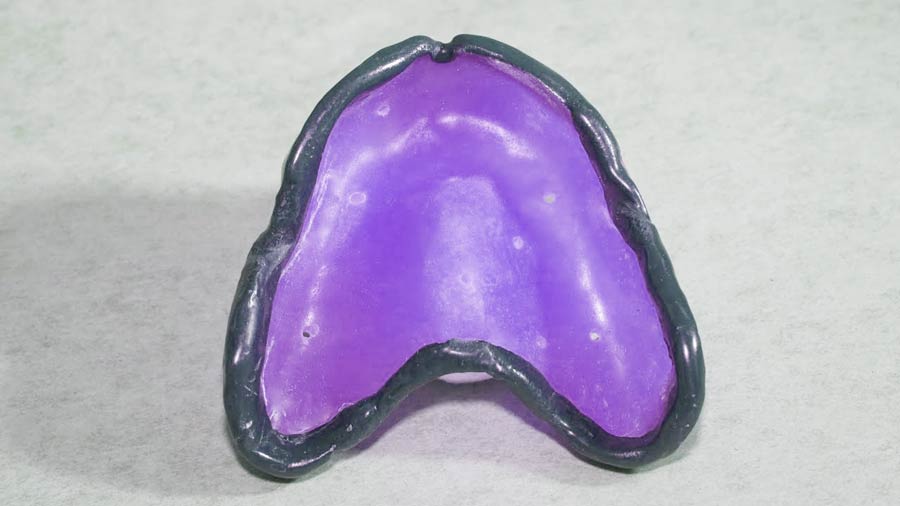 Hybrid Use of 3D Digital and Traditional Impressions
At this point in time, a hybrid use of the technology available involves taking traditional final impressions using a scannable alginate and impression trays. Most dental offices already have CT scanners used to take radiographs and 3D images of the jaws. Many of these systems are also capable of taking 3D images of stationary objects. With the aid of a CT scanning 3D imaging system, the impressions are individually scanned into STL files. The bite registration is also scanned. Images are created and used to 3D "print" models in the denture lab. This is the next best thing to truly impression-less dentures.
While this method may not be totally impression-free, it does have some merits. It removes the errors created in pouring actual stone models. The scanned impression images are also preserved digitally. This has tremendous advantages should a second set of dentures need to be fabricated for the same patient in the near future. Consider elderly or nursing home patients with mobility issues who lose their dentures just weeks after their denture product was made. With scanned impressions, you skip the need for taking new impressions entirely. There is no need for the family to transport the patient back to the office for new records to be taken. It saves everyone involved a lot of time and trouble.
Technologically, true impression-free dentures are not there yet.
But digital impressions for complete denture patients are on the immediate horizon. Dental equipment manufacturers see "impression-free dentures" as the next logical step and are rapidly working to improve the technology accordingly to accurately record the soft tissue as well as the hard tissue. The use of digital and CAD/CAM technology in commercial dental laboratories continues to expand. The development and use of this advanced technology is also an opportunity to attract and retain millennials to a career in the field of dental technology.
[iee_empty_space type="vertical" height="60″ width="10″ hide_on_mobile="small-visibility,medium-visibility,large-visibility" class="" id="" /]
So, let's ponder a variation on the questions that were posed earlier:
Can you make a set of dentures for an edentulous patient that fits well using digital data instead of traditional impressions? Has technology progressed to a point that polyvinyl siloxane and rubber base impressions are a thing of the past? At this point, I would say no and continue to take actual impressions, scanning them to reduce errors.
But if you ask me the same questions again in five years, I expect to have a totally different answer for you. Stay tuned. We'll see how fast scanning technology can progress in a short period of time.
Stomadent Dental Laboratory is a modern dental lab that continues to invest in new dental technology and continual training in order to remain on the forefront of the latest advances in prosthetic dentistry. Partner with Stomadent Dental Lab to provide your patients with industry-leading dental appliances from the best dental lab in the area. Together, we can create the best dentures and change the way dentures are made.
Don't miss a beat — when you need us, we'll be ready! Our dental starter kit includes everything you need to order dentures, dental crowns, dental bridges, and other dental prosthetics from our dental lab. See for yourself how we can help your dental practice succeed!
FedEx two-day return postage shipping labels

Laboratory prescription slips

Product and service inserts with price list