Risks of Outsourcing to a Dental Lab in China
By David Hudnall, DMD
The decision for a dentist to work with any dental laboratory is one that can't be taken lightly. Price alone should never be the deciding factor. In this era of online customer satisfaction reviews and social media, your reputation is on the line more than ever.
The dental laboratory you choose to work with is a direct reflection of you as a dental professional and is an extension of the quality of services provided by your office. If patients are not satisfied with the look or fit of the restorations that they have entrusted you with, they won't care about what the lab did or did not do it. Their satisfaction ultimately rests upon your shoulders.
What Characteristics Should Your Dental Lab Have?
Desirable characteristics of a dental lab include accessible customer service that understands satisfying both you and your patient is its number one priority. You want to work with a lab that does all of its own work in-house and, therefore, can control every aspect of the laboratory workflow.
If there is a complex situation or a problem, you'd like to be able to pick up the telephone and talk with the actual technician who is working on your case. The success of many cases depends upon having good two-way communication between you and the technician. This is especially true as the complexity increases.
Ideally, the lab you choose works to have you satisfied with their work. They understand that repeat business comes from earning your trust. A reputable lab will stand behind its output, have a willingness to correct issues, and offer a reasonable turnaround time at a reasonable price.
Potential Risks of Working with a China Dental Lab
Globalization has made it possible to take advantage of cheap labor markets in other parts of the world. The production of dental restorations is no exception. Globalization is the reason that dental labs in China have proliferated over the past 20 years. Here are some of the risks of working with a China dental Lab:
Communication
To them, you are just a number — and so is your patient. An outsourced lab can't possibly understand their relationship to the dentist or the patient because the lab technicians are totally isolated from the equation. In most China dental labs, restorations are produced in assembly-line fashion, with no individual technician taking responsibility for your case from start to finish. There also may be a language barrier or differences in customs and procedures when it comes to implementing your laboratory prescription. Talking with a dental technician in China about your case is usually not possible.
Quality Control
If you work directly with a dental lab in China or your US lab outsources work to a Chinese dental lab, you have effectively given up any control over the outcome. There is no way to monitor the quality of the materials and the processes used to fabricate the appliances. If something is wrong with the completed case, the dental lab in China doesn't see how it affects the end-user.
Time
There is no local liaison to help if you need the case sooner than normal or need the finished case to be modified. If the lab is halfway around the world, the time it takes to ship the case is often more than the time spent actually working on the case. Time can be an issue if there is a defect with the product and the appliance needs to be returned to the lab for modifications. Your patient is not going to understand why they have to do without their crown or partial for an additional two to four weeks.
You Get What You Pay For
Many China dental labs do offer different grades of dental restorations, depending on the price that you pay. If you are paying the lowest possible price, you will receive the most basic product made by an assembly line of technicians who have little experience. Each technician is somewhat good at doing only one thing. If you pay more, advanced technicians will make better-quality restorations using higher-quality materials. Since standards of quality may be different in other countries, how can you be sure that you are getting the best quality that you are paying for?
Public Safety
The reality is that China dental labs have no interest in using substandard dental materials because they want to keep their customers in the US, Europe, and Australia happy. They realize that concerns over material quality have been a problem in the past.
However, some US State Boards of Dentistry rule against delivering restorations made by non-US dental laboratories. Most of these regulations are in effect to alleviate public safety concerns that the materials used may not be of medical grade or may contain impurities, like lead, that pose a risk to public health. Before you begin working with any out-of-state dental laboratory, do your homework. Make sure that you are not violating the statutes of your individual state.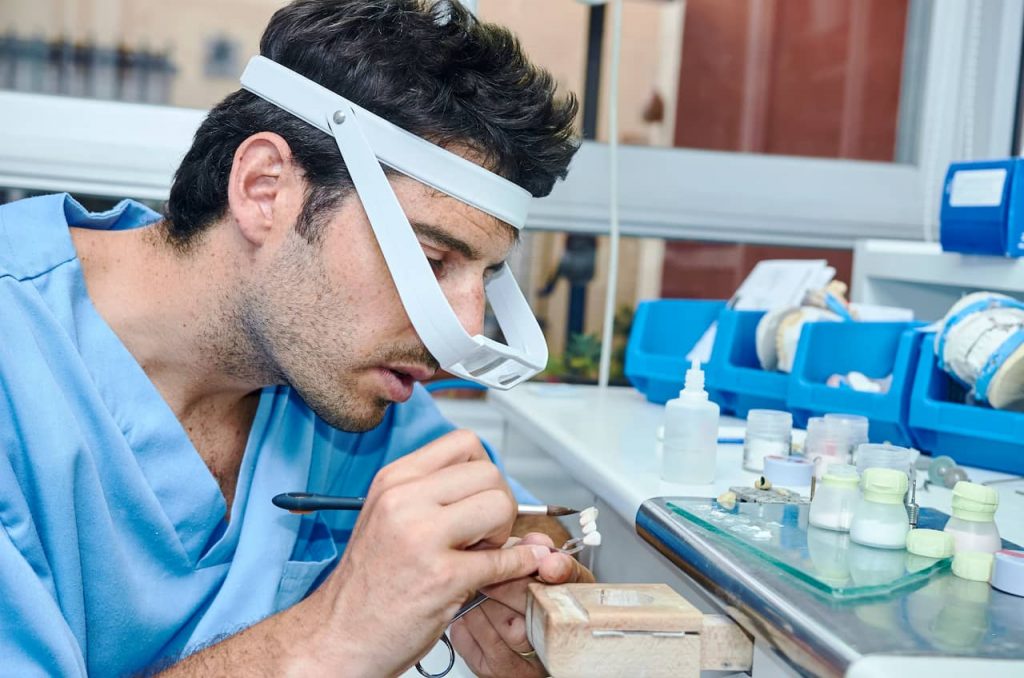 Relationships are Our Business
Stomadent Dental Laboratory understands that making superior-quality dental appliances without outsourcing is only a part of their business model. The real business is all about forming and nurturing relationships with its clients through good communication. We want to earn your trust and partner with you by being the experts at utilizing advanced technologies that produce great-fitting restorations that will earn you rave reviews! Contact us today for a consultation.
Stomadent products are never outsourced — see the full line of Stomadent products.
WHEN YOU NEED US, YOU'LL BE READY
Request our Dental Lab Starter Kit