Relines and Rebases:
WHAT YOU SHOULD CONSIDER, By Dr. Hudnall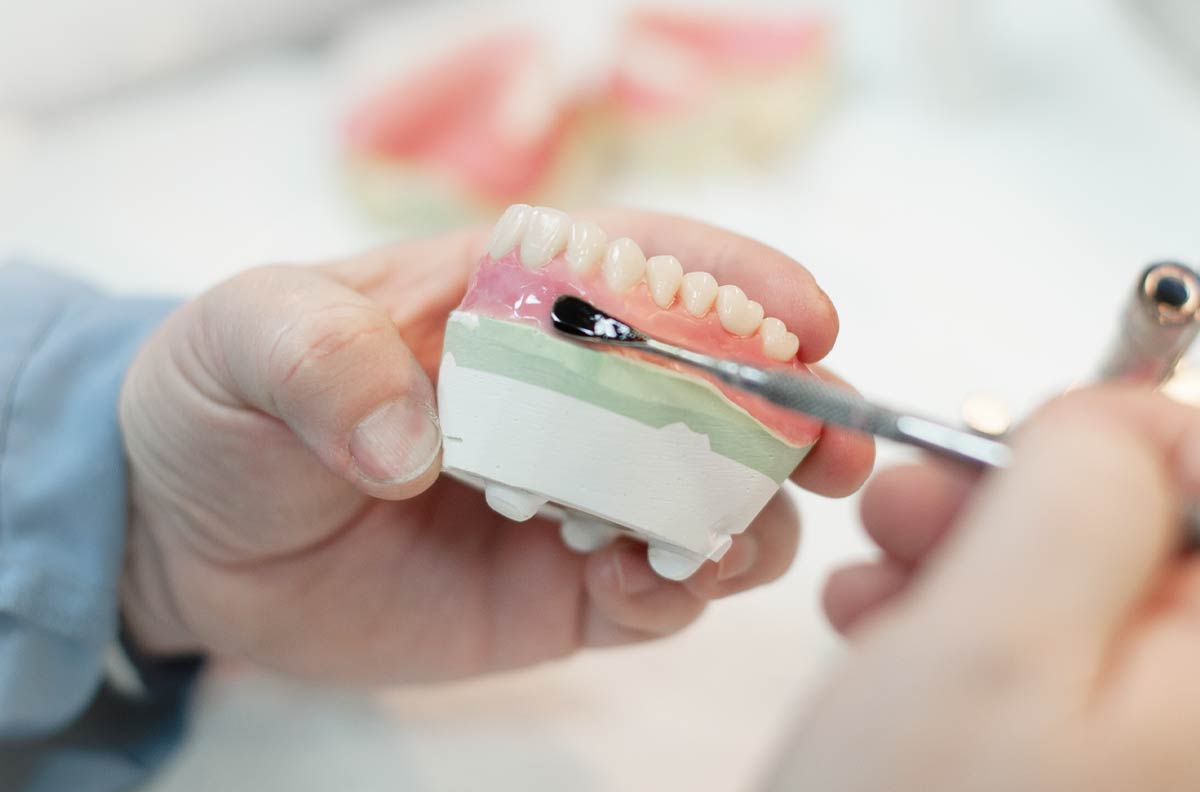 Relines and Rebases:
WHAT YOU SHOULD CONSIDER
By Dr. Hudnall DMD
In an ideal world, every denture patient would visit their dental office for a yearly check-up and examination. This lets their dentist or denturist identify issues related to fit, resorption, occlusion, tissue irritations, and hygiene before they become a larger problem. It also allows their custom-made denture to be adjusted or relined while the changes are small and manageable. By doing this, it is possible to incrementally improve the fit of the full or partial denture multiple years in a row, allowing the denture to serve the patient for five to even 10 years depending upon the how well the patient cares for their denture.
But how often does this happen? Sadly, not often. Most denture patients show up to see you only after they have exhausted all possibilities of managing their problems for themselves. This usually involves using a massive amount of denture adhesive or attempting to perform a denture reline at home with a kit they bought at the drug store. While these items have their place, they were never designed to be a long-term denture solution. At Stomadent Dental Laboratory, we've found that so many hard- and soft-tissue changes have usually occurred at this point that a denture reline is really not the proper course of treatment.
As a dentist who has worked exclusively with removable prosthodontic patients for over 20 years, I have heard all sorts of stories and misconceptions about denture relines.
Patient Complaints
Patients frequently come in to a dental office with a denture or a set of dentures they have worn for many years. Often the teeth are clearly worn, the acrylic is discolored or brittle, the denture is stained or has tartar build-up, the shape of the ridges inside the mouth have changed dramatically, and the list goes on. The denture may have even been an immediate denture that was designed to be replaced six to 12 months after it was delivered 10 years ago. These patients usually inquire about a denture reline because they remember the way the denture used to fit, way back when it was originally made. I have often heard patients say something to the affect of "This denture fit perfectly when I got it and I want it to fit like that again." Another common complaint I have heard is "My denture has become thin and I want it 'thickened up' because I'm afraid it will break."
What the patient is really expressing to you is they want an old, worn-out denture turned into a new dental appliance. Unfortunately, it won't work. I have also had the pleasure of seeing patients who want to reline someone else's denture, usually a dead relative's denture, to fit their own mouth. In either case, they don't want to spend the money to purchase a denture that actually fits their current circumstance. They likely also don't want to spend the time necessary to retrain their muscles to become accustomed to a new denture.
There are valid reasons to reline existing dentures
But these reasons are not among them. If you go along with the patient's "diagnosis" in order to keep them happy, the opposite is going to happen. You will be accused of ruining their perfect-fitting custom denture. Before this happens, you need to have a frank conversation with your patient. If they really want to address their concerns, they need a new denture that is fabricated in a modern dental lab using the latest tools and materials.
Denture relines are not a cure-all. A reline is an attempt to improve the fit of an old denture. However, the old denture needs to be in reasonable condition and follow the contour of the tissue if it is to be relined successfully. Never lose sight of the fact that you are still working with an old denture. If the fit of the dental appliance was terrible before the reline, it will never fit like a brand new denture after a reline.
As dental professionals, if we are to improve the clinical fit of a denture with a laboratory-processed reline, we must provide the denture laboratory with accurate records. This involves looking closely at the appearance of the denture in the patient's mouth before doing anything to prepare the denture for a reline.
If the denture rests solely on the palate due to excessive shrinkage of the alveolar ridge, a denture reline is not a viable option. If the midline is off significantly or the patient shows gums, these things are not going to go away with a denture reline. Since the denture lab technician did not have the luxury of seeing the denture in the patient's mouth prior to the impression, they rely on the dentist or denturist to provide them with accurate records.
Performing Denture Relines
If you have determined that a denture reline is likely to improve the fit for the patient, proceed to roughen the inside of the denture. Then, adjust the denture to relieve over-extended flanges. Using rope wax or stick compound, border mold the denture to allow the muscle attachments to be visualized in the impression. Paint the inside of the denture and the borders with an adhesive, then allow it to dry according to manufacturer's recommendations. Next, use a medium- or light-body impression material, such as poly-vinyl siloxane or rubber base, to cover the inside surfaces and borders of the denture. There is a point where more impression material is not better. It will either be impossible for you to fully seat the denture or the excess material will flow into the patient's throat.
It is absolutely critical to fully seat the denture in the mouth correctly, paying particular attention to centric occlusion, the location of the midline, and the amount of acrylic "gum" that is showing. All of these things must be the same as what you observed at the initial examination in every way. If they are not, allow the impression to set, remove the set impression material from the denture, and start over. Doing this is the one thing that can change the outcome of a denture reline treatment. If the denture impression wasn't seated correctly, the vertical dimension of the processed reline will be increased and the bite will not be correctly aligned with the opposing teeth. It may be loose or shift when the patient bites down, and the midline may or may not be off. In the event that this happens, the denture reline will not be successful.
You know how it goes. The patient blames you for ruining their denture, you blame the denture lab technician, and the lab technician states that the denture correctly fit the model. In the end, no one wins. You will likely be making a new denture for an irate patient free of charge or giving the patient a refund. Either way, the patient is going to "bad mouth" you on social media for quite some time.
A denture reline does provide an improved fit when the patient is properly diagnosed and the appropriate conditions are present. However, a denture reline can be a very tricky thing because you are doing something to someone's old denture and there may not be a spare available for them to wear. Take the time to learn a technique that works reliably in your hands. Admit it when your reline impression is not satisfactory and take a new impression before you turn it over to a dental lab for processing. It is almost impossible to fix a denture that has been relined incorrectly, which is why we recommend taking all the necessary steps before sending the impression to your dental laboratory.
Denture Rebasing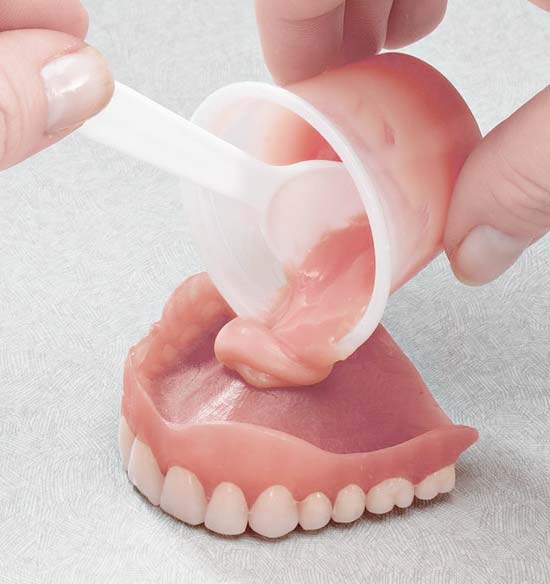 A denture rebase uses the same impression technique as a denture reline. However, the denture lab process involves removing nearly all of the existing pink acrylic material and reprocessing the denture with entirely new acrylic. A denture rebase is indicated over a denture reline when the denture teeth are in good condition and lack excessive wear but the acrylic itself is not in good condition. A rebase technique may be used when the denture acrylic is in need of minor denture repair. Thin, weakened, or cracked denture acrylic will be replaced while being processed. With a denture rebase, it is also possible to increase the acrylic bulk in selected areas for more lip or cheek support to improve the patient's appearance.
All denture products and materials are not identical in appearance and chemical properties. If you are aware that the denture was made from materials other than the universal standard Lucitone, such as Eclipse, please call Stomadent Dental Laboratory to discuss the best option for relining or rebasing the denture. Because we will be removing the interior surface or replacing the denture base entirely, dentures relined or rebased with materials other than the original type of material used to make the denture may yield less than satisfactory results.
Stomadent Dental Lab is your go-to source for laboratory-processed denture relines and rebases. As one of the best and most reliable dental labs serving practices in Idaho, Montana, Washington, Oregon, Wyoming, and the surrounding areas, our denture lab technicians have the training, expertise, and years of experience to extend the life of your patient's old denture and turn it into a denture that will look new with improved fit. Same-day denture reline service is available within the Treasure Valley area. Contact us today to get started — we are your dental clinic's partner for denture services!
Switching denture labs can be stressful
Receive our hassle-free dental lab kit to get started!
Don't miss a beat — when you need us, we'll be ready! Our dental starter kit includes everything you need to order dentures, dental crowns, dental bridges, and other dental prosthetics from our dental lab. See for yourself how we can help your dental practice succeed!
FedEx two-day return postage shipping labels

Laboratory prescription slips

Product and service inserts with price list