Let's Talk About Wironium Cast Metal Partial Denture Frameworks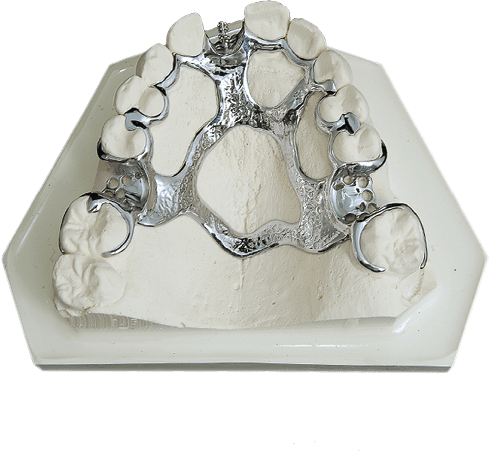 Let's Talk About Wironium Cast Metal Partial Denture Frameworks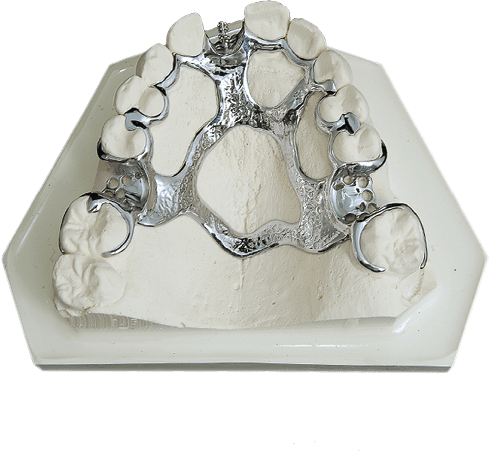 Wironium is a proprietary nickel-free cobalt-chrome alloy developed by Bego USA, Inc. Wironium is similar in composition to many of the other brands of cobalt-chrome alloys that have been available to the dental profession for fabrication of cast metal partial denture frameworks for many years. Like other cobalt-chrome metals, Wironium is biocompatible and corrosion-resistant.
So What's the Hype?
The Difference of Wironium Cast Metal Partial Denture Frameworks
Small changes in the cobalt-chrome formulation of these metal frameworks have resulted in an alloy that has a high resistance to deformation while the cast alloy itself is semi-flexible and resists fracture of the metal clasps. These unique properties allow Wironium metal frameworks to be incredibly thin yet strong and durable.
We have all seen it happen. You attempt to seat a new partial denture but the clasps are not retentive. The patient says their partial is loose. So you tighten the clasps little by little wondering, "How many times can I get away with bending the clasps back and forth before something breaks?"
With Wironium cast metal partial denture frameworks, excessive adjustments are just not necessary.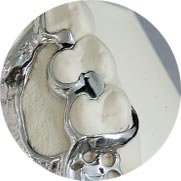 The malleable clasps of these metal frameworks conform to the tooth contour. The properly designed clasps fit right at the time of delivery. Clasps that fit at the onset eliminate the need for excessive clasp modification at chairside. This reduces repeated adaptations, minimizes chair time, and reduces metal fatigue. When partial denture adjustments are required, it is possible for the dentist to bend the clasps at chairside without breaking the clasps. Try that with other alloys.
Hybrid Partial Denture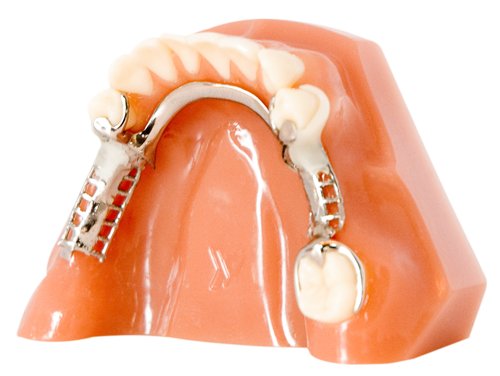 At Stomadent Dental Laboratory, it's also possible for us to fabricate a hybrid partial denture consisting of a Wironium framework with Acetal Resin Thermoflex clasps or Valplast partial denture elements in areas where hiding unsightly metal is important. Our dental lab technicians have the ability to use these different materials in various combinations to achieve the most aesthetic result that your patient demands while providing the precise fit and strength of a cast metal framework that the dentist desires. This type of flexible partial denture is really the best of all possibilities available. The vacuum casting process of Wironium metal frameworks ensures a perfect fit during processing. Stomadent Dental Lab has invested heavily in ongoing training, certification, and expertise to ensure that the Wironium frameworks made on site exceed expectations of dentists and other laboratories in Idaho, Montana, Wyoming, Oregon, Washington, and the many other states we serve. In fact, other dental labs entrust us to make these custom metal frameworks especially for their clients. The ultimate beneficiary of all of this training and knowledge is your patient, who is provided with a comfortable-fitting and long-lasting removable partial denture.

Stomadent Lab is a Bego Wironium certified dental lab
Wironium Denture Repairs and Additions
Repairs and additions to Wironium metal frameworks may be made using exclusive Wironium companion products in combination with laser welding to yield a strong, durable denture repair. It is also possible for our dental lab technicians to repair Vitallium partial denture frameworks using Wironium materials. As a certified Wironium provider, Stomadent Dental Laboratory performs all Wironium repairs in-house.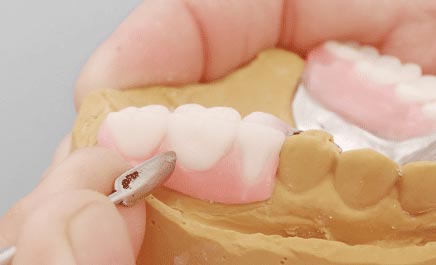 At Stomadent Dental Lab, we want to be your go-to source for both flexible partial dentures and cast metal partial dentures. The only limit to the number of possibilities and combinations of materials for your next partial denture case is your imagination. We feel that Wironium metal frameworks offer the long-standing proven benefits of a cobalt-chrome alloy without the breakage problems often experienced with similar alloy products.
Order the Stomadent Starter Kit today to enter the Wironium revolution that will change the way you think about removable dental restorations in your practice!