Let's Talk About Eclipse Dentures
By Dr. Hudnall DMD
Eclipse is a proprietary denture fabrication system developed by Dentsply International. What makes the Eclipse system stand out from other removable dentures is the ability to finally fabricate monomer-free dentures.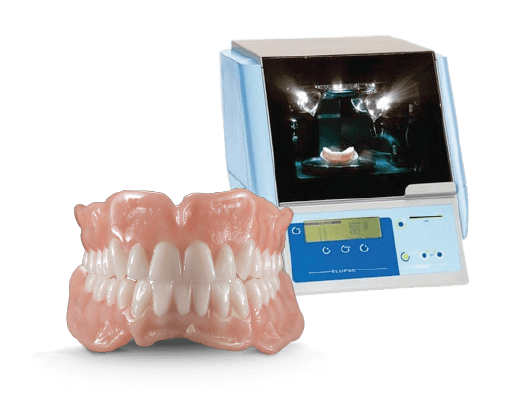 Let's Talk About Eclipse Dentures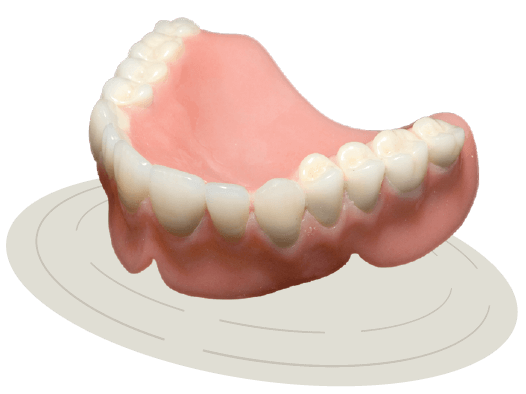 Eclipse is a proprietary denture fabrication system developed by Dentsply International. What makes the Eclipse system stand out from other removable dentures is the ability to finally fabricate monomer-free dentures.
We've all had those patients — despite our best efforts, they have a tissue reaction to denture acrylic. Allergic contact stomatitis is usually attributed to free methyl methacrylate monomer leaching from the denture base weeks or months after the denture was fabricated in a dental lab. How many times have you scratched your head wondering what else can you do? Well, now there is an option!
Eclipse Uses Unique Chemistry & Manufacturing Process
Instead of the traditional powder and monomer mixture that has been the standard for decades, Eclipse denture products have a unique chemistry. Eclipse is composed of the visible light-cured composite resin Urethane Dimethacrylate (UDMA). The system uses UDMA in three different forms to build the denture from the master cast up: base plate resin, set-up resin, and contour resin.
First, an accurate impression is taken. A denture model is then poured and coated with a separating agent. After this step, almost all of the traditional denture lab techniques you were taught go out the window when it comes to Eclipse. The messy, time-consuming denture flasking process is a thing of the past.
Using the model, baseplate resin is molded directly on the master cast. The baseplate resin offers excellent tissue adaptation and fit at the try-in appointment. The baseplate itself actually becomes a part of the final removable denture. The fit of the baseplate at the try-in appointment is the exact fit of the finished dental appliance.
Set-up resin is then used to arrange the fake teeth. Contour resin is used to form the design of the removable denture, adding bulk to support the soft tissue and for festooning. The flask-free denture is processed for one hour in a conditioning oven and for 15 minutes in a specially designed curing unit. The denture processing is followed by trimming, finishing, and polishing.
Benefits of Eclipse
Denture processing with Eclipse involves much less shrinkage and distortion than processing with traditional acrylic denture materials. No flasking minimizes the chance of processing errors and changes in vertical dimension. The result is a removable denture that looks great and fits comfortably at delivery, with reduced sore spots and fewer adjustments. The Eclipse material may also be adjusted, just like acrylic.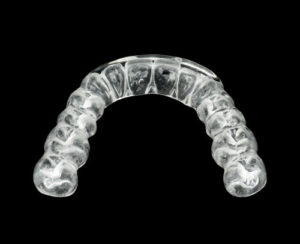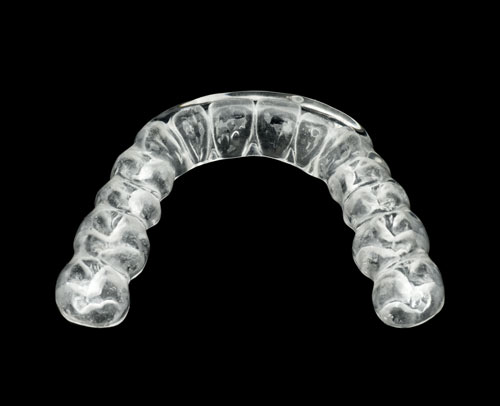 Eclipse comes in four well-known Lucitone shades (Original, Light Pink, Light Reddish Pink, and Clear) that may be used in various color combinations on the same appliance. Want a removable denture with a clear palate? It can be done. Want to make a partial denture with darker resin over the neck of a specific tooth? No problem. Need a night guard? Eclipse clear baseplate resin may be combined with Eclipse Resilient Soft Resin to form a mouth guard with a firm occlusal surface and a soft, comfortable, retentive liner.
The revolutionary prosthetic resin material is ideal for fabricating complete dentures, partial dentures, flippers, temporary partials, splints, night guards, and a range of orthodontic appliances. Less distortion during fabrication in the denture lab translates into a better fit at delivery, saving you precious chair time.
Stomadent Lab is a Dentsply International certified dental lab
Try Eclipse Dentures for Yourself
See if the fabrication process and the finished dentures are the right choice for your patients. Stomadent has invested heavily in state-of-the-art equipment, materials, and training to provide you with options for those patients who are unable to tolerate acrylic removable dental appliances. By eliminating the investment step, less denture lab time is required to fabricate an Eclipse appliance. This may make it possible for Stomadent Dental Lab to offer you a faster turnaround time in specific, select cases, depending upon customizations and workflow.
Stomadent is a full-service dental laboratory with the goal of giving you choices that are the right ones for your patients. Contact our denture lab to inquire about Eclipse, or order your free starter kit today. We are your denture experts!