Clinical Considerations for Immediate Denture Cases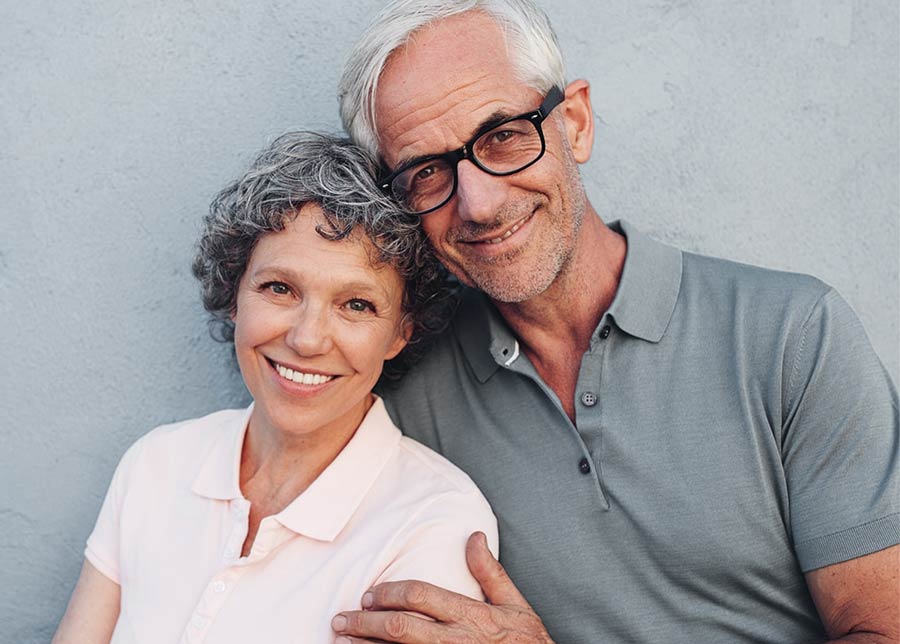 [iee_empty_space type="vertical" height="30″ width="10″ hide_on_mobile="small-visibility,medium-visibility,large-visibility" class="" id="" /]
Clinical Considerations for Immediate Denture Cases
By Dr. Hudnall DMD
As dentists, it is truly amazing to have the technology and expertise available to provide our patients with excellent dental care. Cosmetics and procedures that enhance appearance are advertised to the masses. Dentistry is no exception. To hear advertisers talk, you would think dental disease has been eradicated. So why do we still see patients with advanced periodontal disease or rampant tooth decay that requires the removal of all of their natural teeth in order to improve their appearance and overall well-being?
Dental Anxiety: A Real Phenomenon
The answer lies largely in a four-letter word – fear. Fear of pain, fear of having no teeth, fear of the expense, fear of what someone else said the dentist did to them, fear of the unknown, fear that dentistry will be performed as portrayed in horror films, fear of looking like a clown, and…you get the idea. The list goes on. A lot of fear exists in the general population when it comes dentistry. Is it any wonder dental treatment is often deferred until the situation becomes so dire that the patient is reluctantly forced to take action?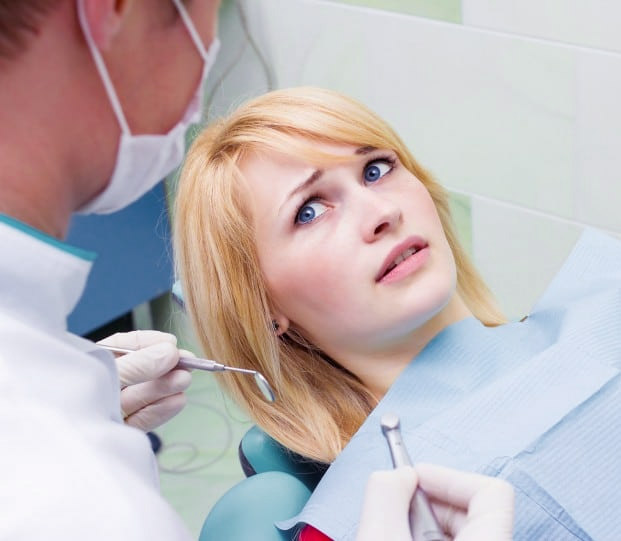 Do Patients Want To Go Without Their Teeth?
We all were probably taught the "ideal" way to transition to dentures – extract all of the teeth and allow the gums to heal for 6-8 weeks before taking impressions for permanent dentures. The second best choice is to remove the posterior teeth and allow healing for 6-8 weeks. Then take impressions for immediate dentures, extracting the 12 anterior teeth at delivery.
In today's appearance-conscious society, how many of your patients are willing to go without some or all of their teeth for 6-8 weeks? Believe it or not, some people are willing to go without their teeth if they believe it will benefit them in the long run. As clinicians it is important to offer all of the options and not allow our own biases to get in the way of other people's choices.
A patient who is willing to go without their teeth can make the construction of dentures much easier for all involved – the patient, the dental professional, and the denture laboratory. After all, you are starting without mobile or decayed teeth in the way.
When Patients Have Their Natural Teeth
But what about those who don't want to be without their teeth or don't anyone to know they have transitioned from their natural teeth to dentures? Immediate dentures enable the patient to continue to engage in their everyday life without the embarrassment of being edentulous for a period of time. When it comes to making immediate dentures, communication with everyone involved is paramount. Establishing realistic expectations and treatment outcomes is key when it comes to working with an immediate denture patient. After all, it is a life-changing experience for them.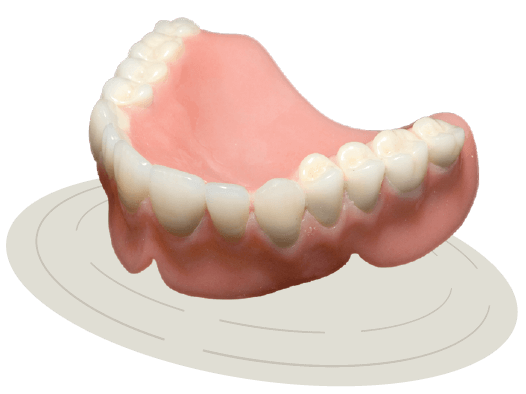 What Is an Immediate Denture?
An immediate denture isn't a replacement for the patient's natural teeth but rather a replacement for having no teeth at all. The immediate denture serves as a bandage and is a best guess effort before moving on to a better, more long-term restorative solution. When a replacement set of dentures is fabricated, the permanent dentures will not be an exact duplicate of the immediate denture. This is because the ridges and tissue that support the dentures have healed and changed dramatically, requiring the teeth to be positioned slightly differently. I have worked with patients who liked the look of their immediate dentures so much they were never truly satisfied with any final dentures. Never mind that their immediate dentures no longer fit the ridges correctly. Setting patient expectations before any treatment is performed and reinforcing that conversation at each step is key for a good outcome and a happy immediate denture patient.
How Are Immediate Dentures Made?
Over the last five decades, there has been tremendous progress in the treatment and prevention of dental disease as well as new ways to restore or replace teeth that are lost to disease. One thing hasn't really changed. And that is immediate dentures. Despite the availability of dental centers with modern dental labs on-site that replace your smile within a day, immediate dentures are basically made the same way they were in the 1950's – until now. Immediate dentures have finally become a part of the digital age. Scanned impressions have allowed denture laboratories to make computer-aided design and computer-aided manufactured (CAD/CAM) 3D printed dentures possible.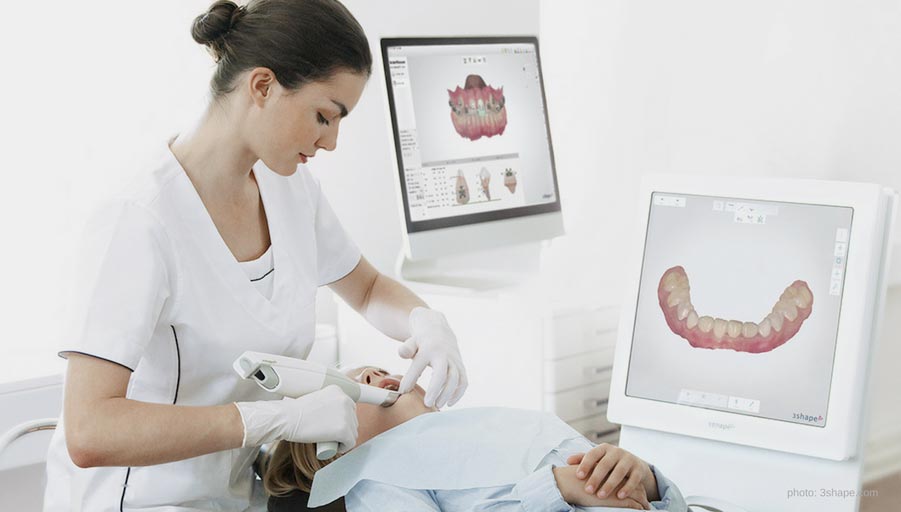 How Are Digital Impressions Captured?
Numerous case studies report employing in-office intraoral scanners to capture all of the patient's teeth, hard tissue, and the adjacent soft tissue in order to create totally impression-free digital images for immediate dentures. Benefits of scanned impressions are many. They include eliminating the difficulty of taking traditional impressions of mobile teeth, more accurate occlusion, fewer appointments, and improved patient comfort during the impression phase of the procedure.
In the absence of a chairside scanner, a bite registration and impressions taken using scannable impression trays are digitized by the laboratory technician using a three-dimensional scanner that takes hundreds of images of the physical impression records at all angles in all dimensions.
With either method, data is collected and is used to construct virtual three-dimensional images that can be rotated and viewed from any angle or any plane in space. 3D scanning technology also allows the laboratory to fabricate a clear surgical stent as a template for bone recontouring, should it be necessary, without compromising the fit of the immediate dentures.
How are 3D Printed Immediate Dentures Made?
Design software is used to virtually construct the finished immediate dentures on a virtual model in three dimensions according to the technician's specifications. Within the software, virtual teeth are selected to be replaced with artificial teeth. Other things, such as modifying the gingival sculpting and diastema creation, can be added or changed to improve the desired esthetic outcome.
Once the technician is satisfied with the design, 3D printed denture baseplates and 3D printed teeth are each custom printed, individually, in their respective shades. Since the denture teeth are manufactured as one continuous unit, the teeth and baseplate components can be married with light cured resin. Printing or milling teeth allows denture teeth to be manufactured to exactly fit the curvature of the arch for ideal denture stability and occlusion without the need to manually modify stock denture teeth. The accuracy of CAD/CAM produced dentures means that guesswork is minimized and immediate dentures fit a whole lot better than traditionally-processed dentures upon delivery. 3D printing eliminates errors inherent with manual processing methods.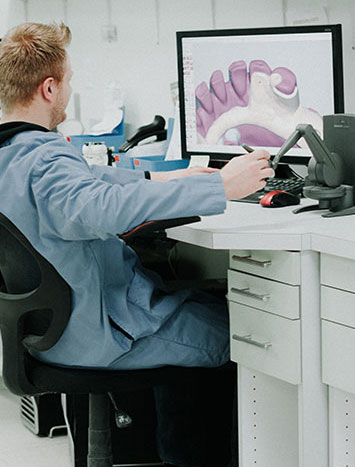 Denture Relines
Relines will always remain a part of the immediate denture protocol. They are a necessary procedure to compensate for tissue and bone shrinkage and to improve comfort and fit during the first 6 to 12 months of the patient being edentulous.
What Can Stomadent Offer?
Stomadent Dental Laboratory is a leader in fully automated laboratory technology. We invest our time, energy, and talent on training and resources that advance dentistry into the digital age. Make Stomadent your partner. Together we can enable your patient to have the beautiful smile that they deserve.