Material Properties
Zirconia dioxide
All ceramic without an unsightly metal substructure
Biocompatible
Incredibly strong
Resistant to wear
Difficult to crack
CAD/CAM production assures precise fit
Special Features of Zirconia
Zirconia crowns were first introduced to dentistry in 2010. Before being milled for crowns, zirconia was used for endodontic posts and dental implants.
Monolithic milled zirconia is fairly opaque — it hides tooth discoloration and large core build-ups well.

Monolithic zirconia lacks the translucent properties that make it appear natural and lifelike.
A translucent version of zirconia was developed that more closely mimics the translucence of natural teeth at a slight decrease in strength.
Uses
Full crown coverage
Bridges
Tooth Preparation
More aggressive anatomical reduction is required for zirconia crowns than is required for e.Max.
Tooth reduction is similar to that required for a porcelain fused to metal crown.
Sharp angles and edges of zirconia crowns must be rounded and shoulders should be chamfered.
Color Choices
Multiple color options are available for zirconia crowns.
Delivery and Cementation
Cementation is achieved via mechanical retention using a glass ionomer resin dental cement.
Average Lifespan
Zirconia crowns are relatively new, which means that there are no long-term longevity studies available.
Taking Impressions in Order of Preference
Impression-free scans for digital workflow

The crown preparation, hard tissue, and the surrounding soft tissue are scanned chairside and transferred to the Stomadent dental lab digitally.

Hybrid technology

This method utilizes both scannable impression material and impression trays.
The impressions and bite are then individually scanned into STL files.
Images are created from these files and used to "print" 3D models in the dental lab.

Take traditional polyvinyl siloxane impressions and bite registrations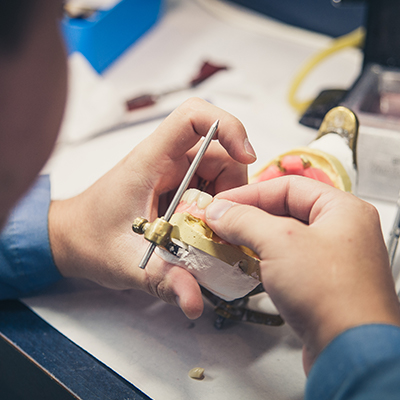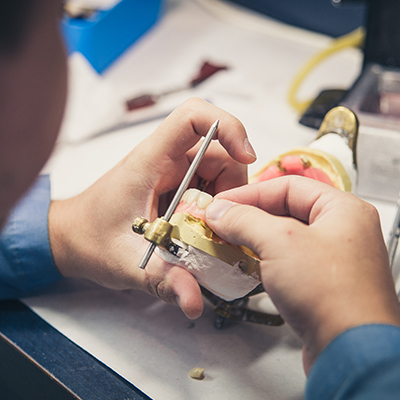 Certification
Stomadent Dental Laboratory is a Zirconia certified provider.

The staff at Stomadent undergoes extensive training and continuing education to stay abreast of the latest advances in the manufacture and process of Zirconia products.
Contact us today for more information or for a free starter kit. If your practice is located in the Treasure Valley area, we offer free pickup. For dental clinics outside of the area, we offer free FedEx two-day delivery.
Switching denture labs can be stressful
Receive our hassle-free dental lab kit to get started!
Don't miss a beat — when you need us, we'll be ready! Our dental starter kit includes everything you need to order dentures, dental crowns, dental bridges, and other dental prosthetics from our dental lab. See for yourself how we can help your dental practice succeed!
FedEx two-day return postage shipping labels

Laboratory prescription slips

Product and service inserts with price list